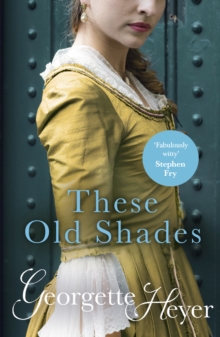 These Old Shades
Paperback
Description
Under the reign of Louis XV, corruption and intrigue have been allowed to blossom in France, and Justin Alastair, the notorious Duke of Avon and proud of his soubriquet 'Satanas', flourishes as well.
Then, from a dark Parisian back alley, he plucks L-on, a red-headed urchin with strangely familiar looks, just in time for his long over-due schemes of revenge on the Comte de St.
Vire. Among the splendours of Versailles and the dignified mansions of England, Justin begins to unfold his sinister plans -- until, that is, Leon becomes the ravishing beauty Leonie ... Yet again Georgette Heyer shows the qualities that made her one of the most successful and best-loved romantic novelists of her age, and why her popularity endures to this day.
Information
Format: Paperback
Pages: 352 pages
Publisher: Cornerstone
Publication Date: 01/01/2004
Category: Historical fiction
ISBN: 9780099465829
Free Home Delivery
on all orders
Pick up orders
from local bookshops
Reviews
Showing 1 - 5 of 13 reviews.
Previous | Next
Review by riverwillow
16/06/2015
This is my ultimate comfort read, and, heresy that this may be to some, is far more satisfying, and better for you, than a box of chocolates. I haven't yet read a Georgette Heyer novel that hasn't had fully realised characters, interesting plots, fully realised characters and sparkling, witty dialogue. This one is a classic, with reason, and is just sheer bliss from start to finish. I don't want to give the plot away, but Heyer transcends and transforms the conventions of romantic fiction and produces a scintillating and exciting novel. Try one. If you don't believe me fans such as A.S. Byatt, Margaret Drabble and Stephen Fry (yes really!) can't be wrong.
Review by Anniik
16/06/2015
This is a very cute book. While I don't generally hold with books that have the whole "girl disguised as a boy" motif (I think girls look ~more feminine dressed as boys, not less), I was able to suspend disbelief and enjoy this book anyway - partially because she didn't have Justin fooled for more than a couple of minutes anyway. While I also have friends who would argue that familial similarities are not close enough to see someone out of the blue and identify them, I had no trouble accepting this - in Leonie's case, her eyes and hair were unique enough that they could possibly be identifiable. This book was a joy to read. While Leonie's hero worship of Justin gets a bit old at times, I admire her spunk Justin is a fantastic character - rakish, thoroughly lacking in morals (so it seems), and eventually redeemed by Leonie's innocence and adoration...a truly enjoyable read.
Review by AdonisGuilfoyle
16/06/2015
Enid Blyton meets PG Wodehouse; all very frothy and silly, but a smattering of historical slang does not a satisfying story make. Leon/Leonie is a typical Heyer-oine, delighting the hero and all secondary characters with the force of her desire to act like a boy (this theory that a heroine must mask or deny her gender to be regarded as 'equal' to the men is popular with Heyer); a tedious caricature who speaks in stunted sentences peppered with French, to show that she is foreign ("Ah, bah! Monsieur, he is a pig-person - voila!") The Duke of Avon - given the preposterous and anachronistic first name of Justin, which I chose to mentally replace with his family name, Alastair - was a promising hero, a dark and brooding Sir Percy Blakeney with a Reputation, until Heyer chose to iron out his personality and make him a safe and aging suitor - tamed by this supposedly 'original' young woman in his care. And Avon's relationship with Leon/Leonie was disturbing throughout - an aging roue buying a young lad as his 'page', the cringing dependency of a whiny and obsequious 'ward' who sits at her master's feet, and then the suggestion that this is the basis for a successful marriage? Not to mention the irony that 'high-born' Leonie is considered a very forward young woman who will bow to no man's will - put her in a frock and the 'hoydenish' behaviour is replaced by a submissive, simpering, tearful milksop! The contradiction in terms of a Heyer hoyden is not unique to this story, however.The plot volleys between the France of King Louis XV and Georgian England, but the only real difference is the increase of bad accents and a change of titles. Nobility of birth is all, personality is nil; men are men, despite addressing each other as 'beloved' and carrying fans, but being a woman merely gets in the way of a good Adventure. The dialogue, usually the best feature of Heyer's writing, is drawn-out and repetitive in this novel - if the 'banter' and exposition were trimmed, this book could be a hundred pages shorter - and certain words and phrases are over-used ('twinkling' eyes, 'desolated' men, that unattractive 'gurgle' of the more mature women, and a smattering of schoolgirl French). A weak novel, unfortunately bought in tandem with its sequel, 'Devil's Cub' - but a recovery might be in order before crawling on hands and knees to meet Leonie again!
Review by LyzzyBee
16/06/2015
(12 Dec 2011 – leaving gift from Heather)One that I didn't remember all that well, but then the plots of the Heyer Regency Romances are fairly similar in many respects. Delicious as ever, with cross-dressing and people recognised by their hair galore – you know how it's going to come out, but it's great fun getting there. And even though she is ruffled and called "Infant" a great deal by a man twice her age, we have a lovely feisty heroine who is plucked from obscurity and poverty at the whim of an English Duke and set on a path to fame and fortune, as well as great supporting characters who are just as lively and beautifully drawn. Beautifully drawn, too, are the period details of dress and personalities, including the French King himself: reading this, you're in for a well-researched extravaganza of quality escapism.On rereading: I know jolly well that I read all of Heyer in lovely hardbacks with mint green covers from my school and village library in my early to mid teens (did everybody have a wild urge to read SETS of books then? I worked my way through all the Heyers, all the Agatha Christies, all the James Bond books, all the Tanith Lees …) and so even if I didn't remember the details of the plot, it was a comfortable book to sink back into.
Review by Condorena
16/06/2015
Tis story was foreshadowed in Georgette Heyer's first book The Black Moth because the main characters bears many similarities in both books. But in this case Justin Alaistair the Duke of Avon is more fully fleshed out. He is never as bad as he is painted. <br/><br/>The story begins when he rescues a waif from the streets of Paris with striking hair and makes him his page. There is a mystery subtly interwoven in between action and adventures that makes this book very enjoyable.