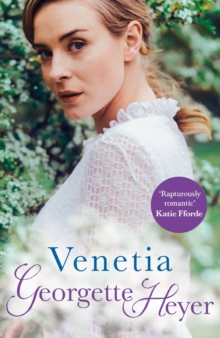 Description
In all her twenty-five years, lovely Venetia Lanyon has never been further than Harrogate, nor enjoyed the attentions of any but her two wearisomely persistent suitors.
Then, in one extraordinary encounter, she meets a neighbour she only knows by reputation - the infamous Lord Damerel - and before she knows better, is egging on a libertine whose way of life has scandalised the North Riding for years.
Yet again Georgette Heyer shows the qualities that made her one of the most successful and best-loved romantic novelists of her age, and why her popularity endures to this day.
Information
Format: Paperback
Pages: 336 pages
Publisher: Cornerstone
Publication Date: 03/06/2004
Category: Historical fiction
ISBN: 9780099465652
Other Formats
CD-Audio from £13.05
EPUB from £3.99
Free Home Delivery
on all orders
Pick up orders
from local bookshops
Reviews
Showing 1 - 5 of 7 reviews.
Previous | Next
Review by rocalisa
16/06/2015
Venetia - Georgette Heyer (9/10)I started this a while back when in a down moment as it has always been my favourite Georgette Heyer novel. I'm delighted to say that it still is as books don't always live up to our fond memories of them. Venetia and Damerel's autumn idyll, their bright wit and playfulness survive the years intact and I loved the book as much as ever.
Review by riverwillow
16/06/2015
Not my favourite Heyer novel, but even so it still sparkles. Venetia is a great heroine, she's fun, knows her own mind and will not settle for second best, and is not afraid to risk everything to get it. Damerel is a typical Heyer hero in that he is not as black as his reputation. Venetia and Damerel's friendship feels very authentic, especially in comparison with the suffocating attentions of the well meaning, but boring, Edward and the histrionic Denny and Damerel's aunt's well meaning attempts to marry him off and restore his reputation.
Review by Herenya
16/06/2015
Twenty-five year old Venetia Lanyon has seen little of society beyond her family's country estate. Since her reclusive father's death, she has run the estate for her younger brothers - the inheritor is overseas in the army, and the youngest at home, studying for Cambridge. While she has two suitors within her limited acquaintance, one is presumptuous and boring, the other too young and melodramatic; she treats them politely but doesn't take seriously.Venetia herself is one of the reasons I liked <I>Venetia</i> so much - she's spirited, friendly and very capable of managing the estate. She's charming and tactful, with a taste for plain-speaking; this disregard for social conventions reflects her sense of independence, rather than an ignorance of the world. And while she dreams of seeing the world, she views her situation with a certain pragmatic acceptance - she's more inclined to do something about her problems than wallow, but not so perfect that nothing ever troubles her.Her brother Aubrey is a precocious, bookish teenager, destined for an academic university career and deeply self-conscious of his limp. His relationship with his sister is characterised by in-jokes, quotations, tolerance for each other's differences and a strong sense of companionship. Sibling relationships in Heyer's novels have never struck me as having particular depth or significance, so I was pleasantly surprised.Venetia and Aubrey's life is changed by the arrival of a normally-absent neighbour, "the Wicked Baron". Reputation aside, Lord Damerel is a fairly unconvincing rake, (with the exception of his first appearance). However, he's a <I>very</i> convincing to both Venetia and Aubrey. Too few romances seem to be about friendship. I was delighted.Of course, friendship doesn't have the same inherent tensions as courtship, (even viewing Damerel and Venetia's friendship as a subtle courtship), and so unexpected news from Conway turns the Lanyon household upside down...Circumstances in Heyer's novels are often amusing - characters plot and plan, and they may find themselves in awkward situations in consequence. But in <I>Venetia</i>, the situation is genuinely beyond the Lanyons' control. And I found myself really empathising with their struggles, and liking what their reactions revealed about their characters, and how important their friendship with Damerel in all of this. Unfortunately, <I>Venetia</i> loses some of its depth - and, I would argue, realism - as the story progresses, (although Venetia never loses her independent spirit). Characters disappear abruptly, and change of scene is not a change for the better. I still liked it, but I could have easily liked it <I>more</i>.But I'm judging it by the things I liked, rather than the things I didn't. It's not perfect, but I found in it a heroine I wanted to be friends with, who possessed psychological depth and a lot of other qualities I admired. I've only read a fraction of Heyer's novels, but this is going on the list with <I>Cotillion</i> as my favourite. <i>He laughed out at that, flinging back his head in wholehearted enjoyment, gasping: "Why, oh why did I never know you until now?""It does seem a pity," she agreed. "I have been thinking so myself, for I always wished for a friend to laugh with.""To laugh with!" he repeated slowly."Perhaps you have friends already who laugh when you do," she said diffidently. "I haven't, and it's important, I think—more important than sympathy in affliction, which you might easily find in someone you positively disliked."</i>
Review by JulesJones
16/06/2015
One of Heyer's Regencies. There are several excellent reviews on LibraryThing, so I will merely say that I adored it.
Review by Leonie68
16/06/2015
Sigh of happiness and content. But I would like to know whether Conway threw Mrs Scorrier out of his house and whether he stayed married to that drip.