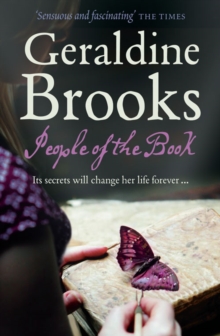 People of the Book
Paperback
Description
The new novel from the author of `March' and `Year of Wonders' takes place in the aftermath of the Bosnian War, as a young book conservator arrives in Sarajevo to restore a lost treasure. When Hannah Heath gets a call in the middle of the night in her Sydney home about a precious medieval manuscript which has been recovered from the smouldering ruins of wartorn Sarajevo, she knows she is on the brink of the experience of a lifetime.
A renowned book conservator, she must now make her way to Bosnia to start work on restoring The Sarajevo Haggadah, a Jewish prayer book - to discover its secrets and piece together the story of its miraculous survival.
But the trip will also set in motion a series of events that threaten to rock Hannah's orderly life, including her encounter with Ozren Karamen, the young librarian who risked his life to save the book. As meticulously researched as all of Brooks's previous work, `People of the Book' is a gripping and moving novel about war, art, love and survival.
Information
Format: Paperback
Pages: 400 pages
Publisher: HarperCollins Publishers
Publication Date: 01/10/2008
ISBN: 9780007177424
Free Home Delivery
on all orders
Pick up orders
from local bookshops
Reviews
Showing 1 - 5 of 10 reviews.
Previous | Next
Review by Booksloth
16/06/2015
I was one of the few people who was actually rather disappointed with Geraldine Brooks's March. No such problems with People of the Book though! I found this absolutely intriguing. I love books about books at the best of times and the premise of following a book throughout its life appealed strongly to me. The book in question is the priceless Sarajevo Haggadah, a 600-year-old Jewish prayer book that has fallen into the hands of Hanna Heath, a present-day book restorer. As Hanna's work reveals the tiny clues from the past, the story takes us through the life of the book, the people who have owned it and the tremendous efforts made to preserve it and bring it safely through to the 21st century. It's a wonderful read that gripped me from the first page to the last.
Review by lunacat
16/06/2015
Hanna Heath is set the task of conserving a book. Not just any book, but one at least 600 years old, with a coloured history and a lot of meaning behind it. It is in fact, a Jewish Haggadah, and renowed for its glorious artwork.While she repairs it, she discovers various minute objects that reveal some hints of its past, and where it has been in the periods of time when its whereabouts were unknown. Through these keyholes, we are treated to glimpses of worlds rich in colour and detail, with convincing characters and stories of history I knew almost nothing about.The story that unfolds is one that is magical. However, I felt the present day events and the attempt at the twist let this book down. Most of it I didn't mind as I appreciated Hanna's discoveries and the way it lead to the past stories, but somehow I could never connect with the attempts to draw us into her personal life.Despite the negatives, anyone with an interest in history, books or a good story should read this.In one line: Engrossing, well told tale of the history of a book.
Review by alittlebreeze
16/06/2015
It centers around the mystery of the Sarajevo haggadah, a book prized and protected throughout five hundred years of history. Brooks imagines the story behind the book's survival, and, spanning continents, weaves back and forth through history to tell the story.Brooks won the Pultizer for her novel March with much fanfare here in Australia - she is Australian and grew up in the western suburbs of Sydney but now lives in the states with her husband and son. I tried to read March - it's still on my bookshelf - but I could just never get into it. I am not a huge fan of the historical novel, and often find them too full of obvious research, and I get a little impatient.I might have to give March another go, because People of the Book was an excellent read. This time, I was grateful for the level of historical details, the comprehensive research on the art of rare book conservation. Towards the end of the novel, I found myself turning the pages as if I were reading an adventure novel (I'm loathe to mention the Da Vinci Code).I'm definitely going to give March another shot.
Review by elliepotten
16/06/2015
I came to this book with great expectations, having read and loved Brooks' first novel, 'Year of Wonders' several times over the years. This one didn't quite live up to her debut for me, but I certainly wasn't disappointed. Brooks has put together a sweeping work giving the reader glimpses into the journey of the famous Sarajevo Haggadah, a beautifully illustrated ancient Jewish prayer book.She alternates chapters from the point of view of Hanna, a feisty young book conservator working on the haggadah, with episodes from the book's history, flowing through time and skipping across countries to follow it from its creation to its revered status today. It is an epic story, filled with hardship and death, war and persecution, romance and courage. Perhaps one of the reasons I preferred 'Year of Wonders' was its message of pulling together in times of natural disaster in order to survive. This novel was about the survival of the book when human bonds were being torn apart, and Brooks doesn't shy away from the cruelty of war and the idea of history repeating itself in the face of mankind's own futile desire for superiority.I don't think I would read it again in a hurry - although the book survived, it was heartbreaking the way lives were being senselessly destroyed all around it. Suicide, murder, book burning, torture, it's all here. Most of this book is fictional, but the research on the religious turmoil and the bravery of the people known to have protected the haggadah is as meticulous as we would expect from Brooks. It's well worth a read: it made me think, it made me cry, it left me pondering huge themes and questions, and it reminded me of how lucky I am compared to these individuals who had to show immense courage just to hold on to their beliefs and stay alive.
Review by RedBowlingBallRuth
16/06/2015
Picture a episode of CSI where the mystery case is that of an ancient, breathtakingly beautiful religious text with a hidden history - now combine this with a story of love, loss, religion, sacrifice, family and war, and you get Geraldine Brooks' masterpiece People of the Book. When the treasured Sarajevo Haggadah is recovered in the aftermath of the war in Bosnia, world renouned rare-book restorer Hanna Heath is hired to solve the mysterious journey of the book. What she discovers is an remarkable journey across the world, filled with miracles and tradegies. We learn of its origin and meet the people which had the book in their care, risking everything to keep it safe.I loved this book! An ode to books and those that love them, written in a beautiful, thoughtful and gripping way. Highly reccomended.