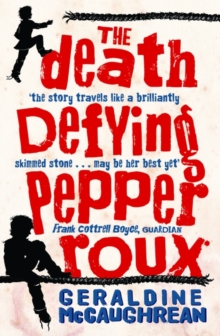 The Death Defying Pepper Roux
Paperback
Description
When Pepper Roux was born his aunt foretold that he would not live past 14 years of age. Throughout his childhood his parents haven't bothered with him much, knowing that his life would be short-lived. So when Pepper wakes up on his 14th birthday he knows this will be the day that he'll die. But as the day wears on, and Pepper finds himself still alive, he decides to set off to sea in an attempt to try and avoid death for as long as possible. As time goes on Pepper steps into many roles and personas and has numerous outrageous adventures. But can he stay one step ahead of death? Or will fate catch up with him? And, if he does live, which of his many lives will he choose to adopt? This riot of a story is a wonderful adventure, and Pepper is an unforgettable character who stays with you long after his story has been told.
Information
Format: Paperback
Pages: 256 pages
Publisher: Oxford University Press
Publication Date: 03/06/2010
Category: Adventure
ISBN: 9780192756039
Free Home Delivery
on all orders
Pick up orders
from local bookshops
Reviews
Showing 1 - 2 of 2 reviews.
Review by heidialice
16/06/2015
When he was born, Pepper's aunt predicted he wouldn't live past 14. On the morning of his fourteenth birthday, he walks out of the house, and just keeps on walking, then running away from it all. Assuming one identity after another, he tries on the various roles of adulthood, getting more deeply in trouble with every turn, and more convinced the angels are after him. But he still hasn't died -- does he have a guardian angel after all? Or maybe he has finally outrun his fate....There is nothing saccharine in this nevertheless very sweet tale of a sheltered boy finding his way in the big, wide world. Pepper is a scrappy survivor in a confusing world where things are never quite as they seem, to him at least. It is a world populated with other survivors: the poor, the outcast, the lower class, and the misfits. A fast-paced, quirky read with an unconventional story line.
Review by brokenangelkisses
16/06/2015
Running a book group for teens means that I read a fair amount of teen fiction: some good, some bad, some indifferent. While I probably wouldn't have selected 'The Death Defying Pepper Roux' to read without this prompt, I was anticipating an entertaining read since the cover design made the tale appear to be a varied adventure story. Furthermore, I had previously read and enjoyed 'A Pack of Lies', an earlier and very interesting work of McCaughrean's which I felt successfully merged fiction with reality. The author has won several awards for her teen fiction and this book has been nominated for the Carnegie Prize. Could it be a winner?Pepper RouxOn the day Pepper turns 14, he knows that he must die. In fact, he is living on stolen time as he was meant to have died before reaching this tender age. Aunt Mireille is sure of this; Saint Constance told her so in a dream on the night he was born. While Pepper's doting mother sobs into her cereal, Pepper rereads his father's farewell note, embarrassed by his inability to meet their expectations. Why hasn't he died yet? In a spontaneous act he steps sideways into another life. Can he possibly cheat death? What will happen if he does?Although the set up is a little odd, there is sufficient realism in the opening pages to make it possible to overlook certain oddities, like death-predicting saints. Certainly, Pepper's misery and embarrassment are convincing and help to create an immediately sympathetic character. Equally, there are enough odd elements – Pepper's name (which is explained convincingly), his parents' ready acceptance of his fate – to make the subsequent adventures seem, not plausible, but not completely impossible. I was intrigued by the premise and entertained by the idea of stepping into another life.Pepper SalamiOf course, taking on another life is never as simple as one might like, and a child stepping into an adult's shoes might well be disadvantaged by their innocence. Like a child playing dress up, Pepper wanders through several lives, bringing his own delightful naivety to them all. I found the first two thirds of the book mildly diverting as Pepper ricochets from one existence to another, leaving behind a trail of chaos which inevitably swells behind him… His innocent approach is at once touching and believable, and McCaughrean skilfully glides over the less believable aspects of his existence. I feel that the story is well paced in this section and would definitely hold a young teenager's interest.Even though it is an adventure story it doesn't feel like a 'boy's book'; there is a lot of focus on Pepper's feelings and the story never degenerates into simply 'a chase scene' or 'a fight'. I imagine it would appeal well to girls and boys. Although he is rather innocent and vulnerable, he is not silly or passive. He fights what he considers to be his fate throughout the story and I think young readers would accept that his perspective is a little skewed while admiring him as a kind-hearted and intelligent character. Gradually, it becomes clear that his upbringing has been rather miserable and so I found myself pleased that he was experiencing some fun – even if some of it was rather dangerous!Throughout the story Pepper is preoccupied with escaping death and interprets the world around him according to his upbringing. Even young readers will be in a privileged position and are likely to understand what is actually happening to Pepper, but there is sufficient ambiguity to allow other possibilities to entertain readers. The narrative is dramatic, full of surprises and shift swifts. Gradually, Pepper's escapades tighten around him. Can he escape? If so, how? At this point the story becomes a bit more fantastical, but the interactions between the various characters were sufficiently entertaining to keep me interested. At points the story is genuinely exciting.For me, the problem arose with a third of the book remaining. There is what felt to me like a lengthy exposition where 'gaps' in the narrative are filled in. I found that I became a little impatient with this section because, really, the gaps were Pepper's and not mine. It was perhaps useful to have some details confirmed, but I felt the drama really seeped out of the story at this point. Fortunately, there was more 'action' between this section and the end but I found that it made me lose interest in the story, which was a shame. However, the boys in my book group actually liked this section, even though they agreed that little was new to them, so this may be less likely to bother teen readers.The ending is tender, gently comedic and ties up all the lose ends, which I liked. It was perhaps a little impractical, but the fantastical nature of the story means that I wouldn't be concerned about copycat teens! I thought it was a very suitable conclusion to the tale and was relieved that there would be no sequel simply because it meant that I could enjoy the book for what it was – an entertaining and highly fantastical story about a young boy's adventures.Pepper…oni?In an inventive tale, Pepper steps in and out of a range of lives and McCaughrean develops a clear but never irksome moral message. I found Pepper's character sympathetic and his development as a character interesting. Despite gaining maturity and understanding, as is typical of a teen novel like this one, he also has to learn how to be a 14 year old boy. He is a good role model and I liked the fact that his strengths were not 'superhero' ones (he's no Alex Rider, battling on through broken limbs) but 'human' traits. He has a conscience and he's not afraid to use it. Although I found the exposition a little dull it didn't spoil my overall enjoyment. There are some interesting themes in the story but the story takes priority and the book is better for it. It isn't too fantastical but requires a certain suspension of belief. I'm not sure it's a prize winner (I think it's a little 'simple' for that) but my book group and I would recommend it to younger teens (11-15) as an entertaining read.
Also by Geraldine McCaughrean | View all