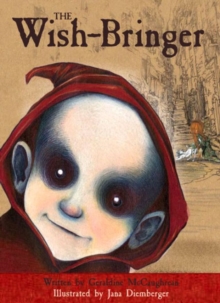 Wish-Bringer: Little Monk Book 2
Paperback / softback
Description
The Little Monk Monacello returns, once again beautifully illustrated with Jana Diemberger's stunning artwork. There are parts of the world where people think Bad Luck comes up from below, and Good Luck comes down from the sky.
Not in Naples. In Naples bad luck and good came from just one place: Monacello.
In the second installment, the "Little Monk" who brings both good and bad luck is begrudgingly transformed into the Wish-Bringer.
Encouraged by his mysterious friend Napolina, only when she isn't looking too closely does he return to mischief-making.
There is one wish, however, that Monacello cannot grant...his own wish to know the rest of his story, the mystery of his parents, and why he came to be left outside the doors of a nunnery one cold morning.
In this tale, Monacello faces up to his enemies and comes one step closer to discovering the truth about his past.
When it comes to the Little Monk though, bad luck can never be far away, and soon Monacello is called upon to grant the hardest wish of all...THE AUTHOR SAYS: I visited a friend in Naples, and she showed me the city's best secret - its Undercity: a gloomy, buried world of ruined houses and streets. Then I found out Naples has a secret inhabitant too - part-good, part-bad; a bringer of good luck and trouble; a boy with a sad history of his own.
Legends like Monacello's date from a time when stories were not just for children; when they hovered in everyone's brain, somewhere between made-up and true. I never cared much for wicked villains or superheroes.
Monacello is a mixture of sun and shadow - like we all are.
My sort of hero. REVIEWS: "Reads aloud wonderfully with its tale-teller's seeming simplicity and its frequent alliterations and internal rhymes...Designed with such care, this layered tale will demand to be revisited many times." -- BOOKS FOR KEEPS
Information
Format: Paperback / softback
Pages: 56 pages, ill
Publisher: Phoenix Yard Books
Publication Date: 28/09/2012
Category: General
ISBN: 9781907912061
Also by Geraldine McCaughrean | View all