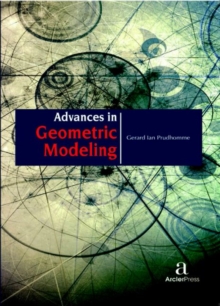 Advances in Geometric Modeling
Hardback
Description
First of all, what exactly is geometric modeling? CAD (computer-aided design) software programs are utilized by designers, technical engineers, technicians, and others to produce accurate technical illustrations.
There are a variety of functions of these software programs, probably the most widely utilized function is geometric modeling.
The software programs permit the arithmetical description of the item to be shown as a picture on the monitor of the PC. The PC compatible arithmetical explanation of the geometry of the item is known as geometric modeling.
CAD software programs may be utilized by engineers to produce geometric modeling in both two-dimensional ( 2D ), or even three-dimensional ( 3D ), versions.
The first chapter gives an outline of 3D semantic city models.
Chapter 2 scrutinizes a reasonably-priced platform of off-the-shelf equipment utilized to pull together natural-colour 3D varieties of insects.
Chapter 3 analyzes a manner to manufacture cerebral cortex, as well as skull reproductions, and additionally substantiate that the stereolithograph version conserves the volume of the VR method.
Chapter 4 suggests a model of an engaging 3D version of the jawbone muscle mass of the American Alligator.
Chapter 5 puts emphasis on exterior surface mesh designs in accordance with segmented datasets.
Chapter 6 evaluates an involved 3D software application permitting users to generate a digital photorealistic physique.
Chapter 7 peruses development of a versatile workflow that integrates diverse highly developed visualization application elements to be able to conceal the intricacy of three dimensional information visualization.
Chapter 8 views technology formulated to allocate the configuration layout for an industrialized robotic work cell.
Chapter 9 evaluates an innovative approach to determine facial structure in human population samples with combined Western African as well as European ancestry.
Chapter 10 gives an outline of how surface area geometry of a life form corresponds to the perimeter of its actual three-dimensional structure.
Chapter 11 showcase an example of morphogenesis in the shape of a three-dimensional digital structure.
Chapter 12 views three-dimensional graphical stylizations of specific trees.
Chapter 13 shows how improvements in electronic biotelemetry systems are allowing the analysis of authoritative information on the actions of free-ranging wild animals.
Chapter 14 features a three-dimensional form of the right atrium.
Chapter 15 scrutinizes a digital three-dimensional reflection of an arm where suitable synchronous visuotactile stimulus is supplied.
Chapter 16 is designed to develop brain-computer interfaces and virtual reality.
Chapter 17 scrutinizes the utility of virtual reality and body image disturbance.
Chapter 18 deals with three-dimensional stereophotogrammetry.
Chapter 19 showcases how three-dimensional image stacks can give details about the framework of volumetric cultures.
Chapter 20 analyzes authentic 3D geometry accommodated to entire 3D gap gene expression information.
Chapter 21 studies a 3D structural model for virulence.
Information
Format:Hardback
Pages:337 pages
Publisher:Arcler Education Inc
Publication Date:30/11/2016
Category:
ISBN:9781680944693