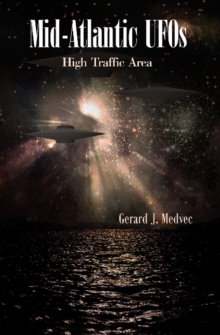 Mid-Atlantic UF: High Traffic Area
Paperback / softback
Description
During a one-year period, as reported from only two of the many info-gathering organizations, there were 1,729 UFO sightings for the U.S.
Mid-Atlantic region. This averaged 144 per month or roughly 5 per day-and these are just those reported.
Here, find over 80 true encounters: alien abductions, a mass fleet sighting, advanced extraterrestrial technology, and more, coming from passionate eyewitness accounts.
Read full-length, never-before-published stories of UFO encounters in New York, Pennsylvania, New Jersey, Delaware, Maryland, Washington, D.C., Virginia, and West Virginia, with ties to others around the world!
Discover ET phenomena that range from playful flying globes to heartless abductions.
Watch a glowing red sphere rise out of Delaware Bay that is as big as a house!
Observe a hypnotized session as a man first learns that he has been visited/abducted by "greys" since he was five, and witness a never-before-reported blue-green alien mist terrorizing young men at their campsite!
Information
Format: Paperback / softback
Pages: 128 pages, 2 b/w images
Publisher: Schiffer Publishing Ltd
Publication Date: 28/10/2013
Category: Mysticism, magic & ritual
ISBN: 9780764345074