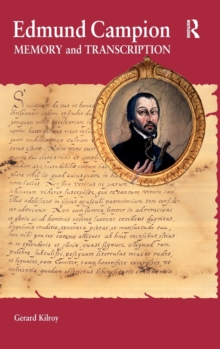 Edmund Campion : Memory and Transcription
Hardback
Description
The death of Edmund Campion in 1581 marked a disjunction between the world of printed untruth and private, handwritten, truth in early modern England.
Gerard Kilroy traces the circulation of manuscripts connected with Campion to reveal a fascinating network that not only stretched from the Court to Warwickshire and East Anglia but also crossed the confessional boundaries.
Kilroy shows that in this intricate web Sir John Harington was a key figure, using his disguise as a wit to conceal a lifelong dedication to Campion's memory.
Sir Thomas Tresham is shown as expressing his devotion to Campion both in his coded buildings and in a previously unpublished manuscript, Bodleian MS Eng. th. b. 1-2, whose theological and cultural riches are here fully explored. This book provides startling new views about Campion's literary, historical and cultural impact in early modern England.
The great strength of this study is its exploitation of archival manuscript sources, offering the first printed text and translation of Campion's Virgilian epic, a fully collated text of 'Why doe I use my paper, ynke and pen', and Harington's four decades of theological epigrams, printed for the first time in the order he so carefully designed. Edmund Campion: Memory and Transcription lays the foundations of the first full literary assessment of Campion the scholar, the impact he had on the literature of early modern England, and the long legacy in manuscript writing.
Other Formats
Paperback / softback from £32.85
EPUB from £32.39
PDF from £32.39