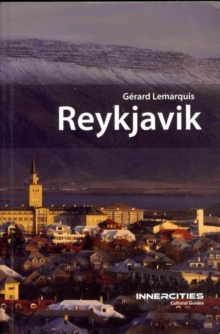 Reykjavik
Paperback / softback
Description
Founded by Viking adventurers around AD 870, Reykjavik, the most northerly capital city in the world, is paradoxically a young city.
Though it is home to the Althing, one of the oldest existing democratic institutions in the world, it was not until the eighteenth century that it developed from an isolated fishing village into a small town.
It survived natural disasters and famine, a harsh climate and foreign meddling.
Impoverished and marginalized under Danish rule, it was only with the Second World War, occupation by Allied forces and independence that Reykjavik grew into an important commercial and cultural centre. More recently Reykjavik has witnessed a dramatic cycle of boom and bust as its short- lived financial industry collapsed, creating unprecedented social friction in this most consensual of cities.
As the city and country recover from the crash of 2008, Iceland has reassessed its role in the world economy and embraced new forms of tourism. Reykjavik's rapid growth and modernization stand in contrast to the resilience and permanence of its traditions. In art, literature and many forms of popular culture the city's people look back to a not-so-distant past of farming and fishing villages.
Despite the advent of modernity, the city retains the feel of a small town, where family and community remain important.
The modern and the traditional intersect in a city which is famous for its nightlife yet which is still strongly attuned to medieval sagas. Long-time resident and journalist Gerard Lemarquis plots the history of Reykjavik, its episodes of foreign domination and its trajectory towards independence.
He explores Iceland's distant past and myths and legends as well as its often troubled relationship with Britain.
Looking at the capital's major landmarks, he traces the changing phases of Icelandic architecture and its distinctive districts.
He surveys the country's literary and artistic heritage, the idiosyncrasies of its social conventions and the importance of religion in everyday life.
Not forgotten are the 'dark side' of Reykjavik and the spectacular surrounding natural scenery, which is easily accessible. Written by an outsider with deep roots in Reykjavik, this is both a clear- sighted and affectionate portrait of a unique city.
Information
Format: Paperback / softback
Pages: 224 pages
Publisher: Signal Books Ltd
Publication Date: 01/09/2013
Category: Travel & holiday guides
ISBN: 9781908493828
Free Home Delivery
on all orders
Pick up orders
from local bookshops