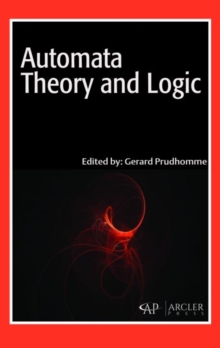 Automata Theory and Logic
Hardback
Description
The automata theory and logic in theoretical computer science is critical for the development of theoretical computer science.
The objective of the theory of automata theory and logic is to propose models of mathematical mechanisms that formalize calculation methods.
This theory is the foundation of several important branches of theoretical computing. The first chapter refers to automota theory. Chapter 2 shows that the durability of organic designs seems to have come about in the form of a significant basic principle in solutions biology.
Chapter 3 looks at how ideas acquired from multi-level computational varieties of organic models could very well be converted into actual functions only as long as the strategy accurateness appears to have been confirmed to start with. Chapter 4 offers a model-based incorporation way of thinking for redesigning coupled with confirmation of the time aspect.
Chapter 5 exchanges views about the most widely read, not to mention thrilling, computational techniques, and also equipment, on the market today for systems biologists, antagonizing design patterns as well as a partnership between all of them.
Chapter 6 proves that Web malware are comparable to organic infections. Chapter 7 shows that Von Hippel-Lindau ( VHL ) disorder is a genetic problem predisposing to the growth and development of various cancer malignancy types.
Chapter 8 showcases how the Wnt/?-catenin alerting path is essential for several developing procedures and also cells upkeep.
Chapter 9 describes how visceral leishmaniasis, brought on by contamination of mice with the protozoan parasite Leishmania donovani, is identified by central amassing. Chapter 10 looks at how Wifi broadband seems to have obtained exceptional consideration from the analysis environment.
Chapter 11 describes how reconstructing mobile sounding systems as well as comprehending just how they function are leading activities in cellular biology.
Chapter 12 looks at how the up-to-the-minute DREAM4 blind evaluation supplied an especially reasonable and also difficult environment for network reverse engineering techniques. Chapter 13 establishes that Stochastic Petri nets ( SPNs ) have been commonly used to design randomness, which happens to be an gargantuan characteristic of organic mechanisms.
Chapter 14 establishes that air as a method of travel corresponds to an extremely fascinating illustration of a complicated techno-social process.
Chapter 15 shows that despite the fact that the genome is made up of almost all genetic data , the choices that a cell can make are influenced by complicated cell equipment that is mounted above the genome. Chapter 16 shows a great number of versions in Systems Biology are referred to as a structure of Ordinary Differential Equations.
Chapter 17 created a arithmetical version of the xenophagy path.
Chapter 18 displays that MicroRNAs have surely obtained an important level of attention. Chapter 19 looks at how development and also evaluation of systems is more and more prevalent in organic study.
Chapter 20 provides a summary of how privacy leak conduct invading users' information security continues to be extensively learned about.
Chapter 21 looks at how simulating network transduction in cell alerting systems offers forecasts of coverage characteristics.
Information
Format: Hardback
Pages: 275 pages
Publisher: Arcler Education Inc
Publication Date: 01/11/2017
Category: Computer science
ISBN: 9781773612713
Free Home Delivery
on all orders
Pick up orders
from local bookshops