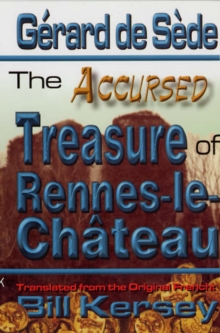 The Accursed Treasure of Rennes-le-Chateau
Paperback / softback
Description
This book is the English translation from the French book by Gerard de Sede outlining the mystery of Rennnes, that fascinating tale of the ancient treasures of the Visigoths.
The mysterious priest of Rennes-le-Chateau, Berenger Sauniere, who uncovered this secret beckons us to follow the clues he built into his domain as a legacy for the future.
It is a tale steeped in mystery and intrigue, and the blood of those who met untimely deaths in guarding and searching for the treasures.
Berenger Sauniere, the mysterious Priest of Rennes-le-Chateau apparently discovered something in his hilltop village which enabled him to amass and spend a fortune.
Between 1891 and his death in 1917 Abbe Berenger Sauniere disposed of more than one and a half thousand million old francs, valued in 1913 at GBP60m.
Was the village of Rennes-le-Chateau the centre of a fabulous discovery?
What was the secret possessed by Abbe Sauniere? De Sede's research led to over 600 books and television documentaries on the subject, putting Rennes-le-Chateau alongisde the Loch Ness Monster as one of the world's unsolved mysteries. The story describes the curious architecture he built into his domain and the Church of Rennes-le-Chateau and its setting in the Languedoc landscape.
The historical background together with the associated myths and legends provides an intesting backdrop into the mystery surrounding the treasures guarded by ciphers contained in parchments and built into ancient tombstones.
The macabre setting of the tale highlights the accursed nature of the history in describing the murders of local Priests who were connected with the saga.
For more information refer to the website www keysofantiquity.com
Information
Format: Paperback / softback
Pages: 176 pages, 8 diagrams, 1 map
Publisher: DEK Publishing
Publication Date: 01/10/2001
Category: European history
ISBN: 9780954152703
Also in the Keys of Antiquity series