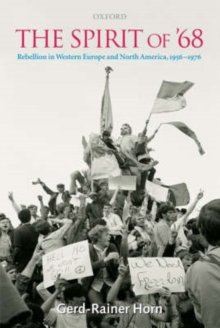 The Spirit of '68 : Rebellion in Western Europe and North America, 1956-1976
Hardback
Description
In virtually all corners of the Western world, 1968 witnessed a highly unusual sequence of popular rebellions.
In Italy, France, Spain, Vietnam, the United States, West Germany, Czechoslovakia, Mexico, and elsewhere, millions of individuals took matters into their own hands to counter imperialism, capitalism, autocracy, bureaucracy, and all forms of hierarchical thinking.
Recent reinterpretations have sought to play down any real challenge to the socio-politicalstatus quo in these events, but Gerd-Rainer Horn's book offers a spirited counterblast. 1968, he argues, opened up the possibility that economic and political elites on both sides of the Iron Curtain could be toppled from their position of unnatural superiority to make way for a new society whereeveryday people could, for the first time, become masters of their own destiny.
Furthermore, Horn contends, the moment of crisis and opportunity culminating in 1968 must be seen as part of a larger period of experimentation and revolt.
The ten years between 1956 and 1966, characterised above all by the flourishing of iconoclastic cultural rebellions, can be regarded as a preparatory period which set the stage for the non-conformist cum political revolts of the subsequent 'red' decade(1966-1976). Horn's geographic centres of attention are Western Europe, including the first full examination of Mediterranean revolts, and North America.
He placed particular emphasis on cultural nonconformity, the student movement, working class rebellions, the changing contours of the Left, and the meaning of participatory democracy.
His book will make fascinating reading for anyone interested in this turbulent period and the fundamental changes that were wrought upon societies either side of theAtlantic.
Information
Format: Hardback
Pages: 264 pages, numerous halftones
Publisher: Oxford University Press
Publication Date: 01/02/2007
Category: General & world history
ISBN: 9780199276660
Free Home Delivery
on all orders
Pick up orders
from local bookshops