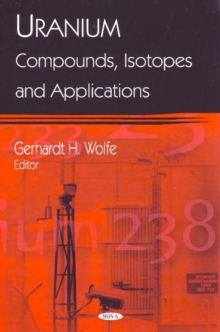 Uranium : Compounds, Isotopes & Applications
Hardback
Description
Many contemporary uses of uranium exploit its unique nuclear properties.
Uranium-235 has the distinction of being the only naturally occurring fissile isotope.
Uranium-238 is both fissionable by fast neutrons, and fertile (capable of being transmuted to fissile plutonium-239 in a nuclear reactor).
An artificial fissile isotope, uranium-233, can be produced from natural thorium and is also important in nuclear technology.
While uranium-238 has a small probability to fission spontaneously or when bombarded with fast neutrons, the much higher probability of uranium-235 and to a lesser degree uranium-233 to fission when bombarded with slow neutrons generates the heat in nuclear reactors used as a source of power, and provides the fissile material for nuclear weapons.
Both uses rely on the ability of uranium to produce a sustained nuclear chain reaction.
Depleted uranium (uranium-238) is used in kinetic energy penetrators and armour plating.
This important book presents new research in the field.
Information
Format: Hardback
Pages: 582 pages
Publisher: Nova Science Publishers Inc
Publication Date: 21/12/2009
Category: Nuclear power & engineering
ISBN: 9781606925737
Free Home Delivery
on all orders
Pick up orders
from local bookshops