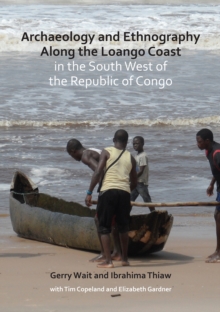 Archaeology and Ethnography Along the Loango Coast in the South West of the Republic of Congo
Paperback / softback
Description
In 2011 and 2012, Dr Gerry Wait (then Nexus Heritage) and Dr Ibrahima Thiaw (Institute Fundamental d'Afrique Noire: IFAN, Dakar) undertook an Environmental and Social Impact Assessment (ESIA) project in Kouilou Department in the southwest region of the Republic of the Congo.
The initiative had been commissioned by SRK Consulting UK for Elemental Minerals Ltd relating to a proposed potash mine.
These landscapes were little known in terms of the sites and monuments from the distant and more recent past.
That the area was important in the understanding of migrations along the African coast had been demonstrated in a pioneering set of excavations by Denbow (2012 and 2014).
This base line study was undertaken to identify and evaluate cultural resources which might need further investigation.
The second part of the study reports on ethnographic surveys undertaken in the same defined area, treating intangible cultural heritage as equally as important parts of the Congo's cultural heritage and identity.
The baseline studies were systematic in that they employed standard best-practice survey techniques but structured on a landscape level.
By building upon Denbow's extensive surveys and small-scale investigations from 30 years earlier the studies have enabled a richer and more nuanced understanding of the Atlantic Coast of Congo during the past millennium.
Information
Format: Paperback / softback
Pages: 116 pages, 72 figures, 5 tables (100 colour plates)
Publisher: Archaeopress
Publication Date: 30/09/2018
Category: African history
ISBN: 9781784919948