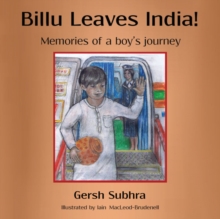 Billu Leaves India! : Memories of a Boy's Journey
Paperback
Description
In the 1960s, many thousands of Indian families made the decision to start a new life in England.
Billu Leaves India! is about a 6-year-old boy called Billu, who is suddenly confronted with leaving the village he loves.
Set in the 1960s, it captures the suddenness of the emigration decision that many families made at that time.
The book revolves around these journeys, the resulting impact upon relationships and the hopes and aspirations of families moving to their new life.
At the heart of the story is the close relationship between Billu and his uncle - Tyaa - who he visits every day.
As a parting gift, Tyaa, a coppersmith, makes him a bowl, which the story hints has magical qualities. This book captures a child's perspective at leaving, and the importance of memories and sentimental artefacts.
The story ends at New Delhi airport, with Billu on the steps of the plane clutching the copper bowl that will become an important symbol of his long-distance relationship with Tyaa. An evocative, heartwarming children's novel, Billu leaves India! will be enjoyed by children aged 7-12. The themes will resonate with the many multi-cultural communities of England, and the story will enable children to compare Billu's journeys with one they may have made themselves.
All profits are going to Oxfam and Derby Open Centre.
Information
Format: Paperback
Pages: 48 pages
Publisher: Troubador Publishing
Publication Date: 28/08/2014
Category: General
ISBN: 9781783062027
Free Home Delivery
on all orders
Pick up orders
from local bookshops