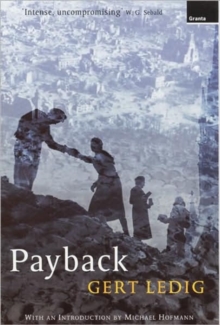 Description
Over the course of seventy minutes, the effects of an Allied raid on an unnamed German city in July 1944 are recounted in horrifying detail.
As American planes discharge their bombs over the city, far below, in the midst of the inferno, an elderly couple trapped in their appartment try to live out their last moments with dignity.
Elsewhere, a man searches desparately for his son, only to run into a troop of drunken soldiers. And as hundreds of civilians wait in an air-raid shelter, an American pilot drifts gently down on his parachute, unaware that he is about to join them...Payback was one of the first German novels to describe the Allies' bombardment of Germany during the Second World War.
Based on Gert Ledig's experiences of German air raids in 1944, and first published in 1956, it paints a savage and unflinching picture of the realities of warfare for ordinary men and women.
Information
Format: Paperback
Pages: 256 pages
Publisher: Granta Books
Publication Date: 15/05/2003
ISBN: 9781862075658
Free Home Delivery
on all orders
Pick up orders
from local bookshops
Reviews
Showing 1 - 1 of 1 reviews.
Review by lriley
16/06/2015
To be honest I liked Ledig's other novel the 'Stalin front' a little bit better. In this one he details an allied bombing raids from a shifting number of perspectives ranging from an actual American bombing crew itself to the civilian and military human beings of the unnamed German city being bombed. At the lowest levels chaos abounds. Ledig's descriptions of the dead and dying--people being buried alive, incinerated, literally boiled alive by liquid macadam are very graphic. His is almost a morbid fascination that can come across as a kind of blackish humor with the variety of awful and horrific ways that a human being can be dismembered or meet his end. Ledig himself witnessed in person the kind of bombing raid described. A Russian front survivor he lost a couple fingers and part of his jaw in the war. This violence to his own person no doubt informs his work. What it tells maybe not so much an historical event as details the destruction of anonymous people in a more and more forgotten time. The Germans of course had brought this upon themselves--and Ledig does not shirk that thought himself. I liked it but some may find the descriptions to violent and obscene to handle.