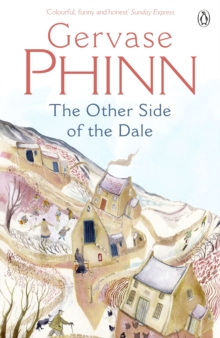 The Other Side of the Dale
Paperback
Description
Gervase Phinn reveals his early experiences as a school inspector in The Other Side of the Dale.As the newly appointed County Inspector of Schools in North Yorkshire, Gervase Phinn reveals in this warm and wonderfully humorous account, the experiences of his first year in the job - and what an education it was!He quickly learns that he must slow his pace and appreciate the beautiful countryside - 'Are tha'comin' in then, mester, or are tha' stoppin' out theer all day admirin' t'view?' He encounters some larger-than-life characters, from farmers and lords of the manor to teaching nuns and eccentric caretakers. And, best of all, he discovers the delightful and enchanting qualities of the Dales children, including the small boy, who, when told he's not very talkative, answers: 'If I've got owt to say I says it, and if I've got owt to ask I asks it.'With his keen ear for the absurd and sharp eye for the ludicrous, Gervase Phinn's stories in The Other Side of the Dale will not fail to make you weep with laughter.'Gervase Phinn's memoirs have made him a hero in school staff-rooms' Daily TelegraphGervase Phinn is an author and educator from Rotherham who, after teaching for fourteen years in a variety of schools, moved to North Yorkshire to be a school inspector.
He has written autobiographies, novels, plays, collections of poetry and stories, as well as a number of books about education.
He holds five fellowships, honorary doctorates from Hull, Leicester and Sheffield Hallam universities, and is a patron of a number of children's charities and organizations.
He is married with four adult children. His books include The Other Side of the Dale, Over Hill and Dale, Head Over Heels in the Dales, The Heart of the Dales, Up and Down in the Dales and Trouble at the Little Village School.
Information
Format: Paperback
Pages: 288 pages
Publisher: Penguin Books Ltd
Publication Date: 01/04/1999
Category: Autobiography: general
ISBN: 9780140275421
Free Home Delivery
on all orders
Pick up orders
from local bookshops
Reviews
Showing 1 - 4 of 4 reviews.
Review by magemanda
16/06/2015
I highly enjoyed this gentle selection of anecdotes about Gervase Phinn's experiences in his first year as a school inspector in the Yorkshire Dales. Phinn has a talent for introducing eccentric and warm-hearted characters, and his enthusiasm for the role he had comes through strongly.This book is quintessentially English - in fact, the Yorkshire Dales almost become a character in their own right. We see them through Phinn's eyes as the seasons pass, and his descriptions of the various schools he visits are vividly drawn.It is very much in the spirit of James Herriott, and is a very pleasurable way to spend a couple of hours.
Review by Figgles
16/06/2015
Lovely book about the experiences and travails of a newly appointed inspector of schools in the Yorkshire dales. Some of the anecdotes are sidesplittingly funny, but there is an undercurrent of seriousness in his love for teaching and encouraging children to grow and learn. A quote on the cover says "The James Herriot of Schools", a perfect description of this book.
Review by dsc73277
16/06/2015
A charming and amusing read, and not just for teachers. Each chapter is like a well-rounded short story with a beginning middle and end: the latter typically acting as a punchline. I first came across this book in audio form five years ago. I have enjoyed revisiting it on the page.
Review by RubyScarlett
16/06/2015
That was so brilliant and exactly what I needed - great comfort read with very fun scenes. Lovely book with interesting anecdotes, if a little redundant.