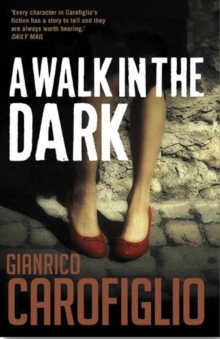 A Walk in the Dark
Paperback / softback
Description
"Carofiglio writes crisp, ironical novels that are as much love stories and philosophical treatises as they are legal thrillers."--The New Yorker"Part legal thriller, part insight into a man fighting his own demons.
Every character in Carofiglio's fiction has a story to tell and they are always worth hearing.
As the author himself is an anti-mafia prosecutor, this powerfully affecting novel benefits from veracity as well as tight writing."--Daily Mail"A novel as much about human nature and the passage of time as it is about law-breaking.
Crisp laconic sentences, subtle shifts in tone, and a seamless translation that should be commended."--The Times Literary SupplementWhen Martina accuses her ex-boyfriend, the son of a powerful local judge, of assault and battery, no witnesses can be persuaded to testify on her behalf, and one lawyer after another refuses to represent her.
Guido Guerrieri knows the case could bring his legal career to a premature, messy end, but he cannot resist the appeal of an apparently hopeless cause.
Nor can he deny an attraction to Sister Claudia, the young woman in charge of the shelter where Martina is living.
Claudia shares his love of martial arts and his virulent hatred of injustice. Gianrico Carofiglio was an anti-Mafia prosecutor in Bari, a port on the coast of Puglia, for many years, and is now a member of the Italian senate.
He has sold over 2.5 million books of the Guerrieri series in Italy alone.
Information
Format: Paperback / softback
Pages: 215 pages
Publisher: Bitter Lemon Press
Publication Date: 01/09/2010
Category: Crime & mystery
ISBN: 9781904738534
Free Home Delivery
on all orders
Pick up orders
from local bookshops