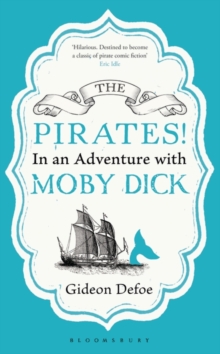 The Pirates! In an Adventure with Moby Dick : Reissued
Paperback
Description
It's come to my attention that the old girl's a little bit past her best. And I can hardly maintain my reputation as a terror of the high seas with bits falling off the boat all the time, can I?
The Pirate Captain is in trouble. Eager to appease his crew with a boat that has a functioning mast, fewer holes and cannons that actually fire, he splashes out on the fancy new Lovely Emma, spending six thousand doubloons he doesn't have.
Finding themselves in debt to the beautiful but deadly Cutlass Liz - or the Butcher of Barbados, as she's otherwise known - the pirates need to raise some money fast.
In a desperate race against time, our heroes embark on an adventure that will take them from the shores of Nantucket to the bright lights of Las Vegas, to the ends of the earth in search of a mythical white whale, and even, perhaps, into the dark depths of madness.
But hopefully they'll be home in time for tea.
Information
Format: Paperback
Pages: 256 pages
Publisher: Bloomsbury Publishing PLC
Publication Date: 05/01/2012
Category: Historical fiction
ISBN: 9781408824962
Free Home Delivery
on all orders
Pick up orders
from local bookshops
Reviews
Showing 1 - 1 of 1 reviews.
Review by elliepotten
16/06/2015
"'It's not going too well, is it, Pirate Captain?' said the scarf-wearing pirate, staring at the conspicuously whaleless sea. 'I'm worried that perhaps this whaling business is a little more difficult than we thought. Possibly that's why Ahab said he'd been chasing the whale for years.'" This review really boils down to a very simple message. IF YOU HAVEN'T READ ONE OF THESE BOOKS YET JUST GET ON WITH IT ALREADY. Because they're funny and cheerful and warm and just a little bit naughty, and if you don't try one you'll never know if the humour clicks with yours or not. If nothing else, you'll learn something from the helpful trivia footnotes (for example, this time I learned the origins of the phrase "freezing the balls off a brass monkey"...). Soooo, go hit the library or something. In this second installment of the series (I've read An Adventure with Scientists (1) and An Adventure with Communists (3) already), the pirates buy a beautiful new boat from Cutlass Liz (who is AWESOME by the way) and spend the rest of the book trying to work out how to pay her off before their time runs out and she kills them horribly. All your favourite elements are in there - the Pirate Captain's beard and pleasant, open face, the long-suffering pirate with a scarf, the Pirate Captain's charming nemesis Black Bellamy and some ship's biscuits (bourbons preferable). Throw in a chance encounter with grizzly old Ahab, a prize ham, a randy whale, a casino, a lesbian albatross, a sexy figurehead and a compelling yet moving one-man show and you've got... well, just another Pirates! adventure, really. The perfect way to while away an idle afternoon and put a mischievous grin on your face! Oh, and don't worry if you haven't read Moby Dick - I haven't either, but so long as you know the absolute basics (y'know, whale, sea captain, Pequod, long rambling discourses about whaling) you'll be just fine. :) BONUS POINTS - for this: "I wanted to tell you one thing - Pirate Captain, you were always my favourite pupil. Certainly you were much better than the others in your class, whom I regarded merely as a brain, an athlete, a basket case, a princess and a criminal." ONE OF MY FAVOURITE MOVIES OF ALL TIME. EXTRA BONUS POINTS - for the little extras Defoe always includes at the back of the book. This time there's some handy information about whale conservation, Nantucket and debt ("Like the Pirate Captain, more people than ever are getting into serious debt, with the accompanying risks of depression, worry and not being able to buy things that you want"). He rounds off the whole thing with an exhaustive list of non-existent (but they totally should!) Pirates! titles, including The Pirates! In an Adventure with Risk Management, The Pirates and the Edge of Reason, The Pirates! Learn German in Five Easy Lessons and The Pirates! In an Adventure with Shaft.