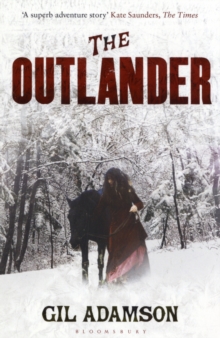 Description
On a moonlit night in 1903, a mysterious young woman flees alone across the Canadian wilderness, one quick step ahead of her pursuers.
Mary Boulton is nineteen years old, half mad, and widowed - by her own hand.
Tearing through the forest with dogs howling in the distance, she is desperate, her nerves burning, and she is certain of one thing only - that her every move is being traced.
Two red-headed brothers, rifles across their backs, lurch close behind her: monstrous figures, identical in every way, with the predatory look of hyenas.
She has murdered their brother, and their cold lust for vengeance is unswerving.
As the widow scrambles to stay ahead of them, the burden of her existence disintegrates into a battle in which the dangers of her own mind become more menacing than the dangers of the night.
Along the way, the steely outlaw encounters a changing cast of misfits and eccentrics.
Some, like the recluse known as 'The Ridgerunner', provide a brief respite from her solitude; others, like the Reverend Bonnycastle, offer support only to reveal that they too have their own demons raging inside. As she is plunged further away from civilisation, her path from retribution to redemption slowly unfurls.
A startling transformation of the classic western narrative, The Outlander is the haunting tale of one young woman's deliberate journey deep into the wild.
Information
Format: Paperback
Pages: 400 pages
Publisher: Bloomsbury Publishing PLC
Publication Date: 01/01/2010
ISBN: 9780747598770
Other Formats
EPUB from £7.19
eAudiobook MP3 from £41.16
Free Home Delivery
on all orders
Pick up orders
from local bookshops
Reviews
Showing 1 - 4 of 4 reviews.
Review by co_coyote
16/06/2015
This is one of the most enjoyable books I've read this year, and will be a candidate for my Book of the Year pick. Gil Adamson's prose has more than a taste of Charles Frasier, and the pleasure I got out of this book was almost on the level of Frasier's Thirteen Moons.Set in the Canadian Rockies in the early part of the 20th century, it tells the complicated story of a desperate young woman who murders her husband to escape an unhappy marriage and is pursued by the victim's brothers. Well told, in lyrical prose, it is hard to believe this is Gil Adamson's first novel. I can't wait to read more.
Review by djfifitrix
16/06/2015
What a great read, I couldn't put this book down!Without giving too much of the plot away, you are with the protagonist Mary throughout the story whilst she is on the run after murdering her husband. The descriptions of the woodland and the scenery, plus the town she stays in, are wonderful, capturing all the detail and atmosphere that you expect travelling with a frightened young woman on her own. The characters are very believable too. Highly recomended, will no doubt pass on to others and read it again myself!
Review by The_Librain
16/06/2015
A wonderful read - so different from the books that I usually choose! A young women travels through 1903 Canada, fleeing from the vengeful brothers of her murdered husband - she has just killed him herself. How her backstory emerges as she journeys, is very well done, as is the setting and the cast of characters she meets along the way.How I found this book is testimony to the power and importance of libraries. Just browsing along the shelves for something to read, I came across it and took the risk of trying it. I would never have found it on Amazon as I don't normally choose things like this!
Review by md777
16/06/2015
Bit slow to start but did improve the further you read. Was like a slow burner that gradually increases the heat, so you want to keep reading to find out how it ends!