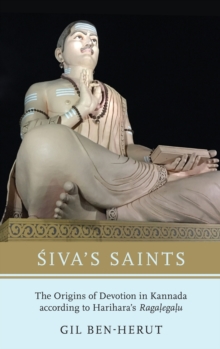 Siva's Saints : The Origins of Devotion in Kannada according to Harihara's Ragalegalu
Hardback
Description
Today numbering more than twelve million people, the Virasaivas constitute a vibrant south-Indian community renowned for its bhakti (devotional) religiosity and for its entrenched resistance to traditional Brahminical values.
For eight centuries this tradition produced a vast and original body of literature, composed mostly in the Kannada language. Siva's Saints introduces the Ragalegalu, a foundational and previously unexplored work produced in the early thirteenth century.
As the first written narrative about the traditions progenitors, this work inaugurated a new era of devotional narratives accessible to wide audiences in the Kannada-speaking region. By closely reading the saints stories in the Ragalegalu, Gil Ben-Herut takes a more nuanced historical view than commonly-held notions about the egalitarian and iconoclastic nature of the early tradition.
Instead, Ben-Herut argues that the early Siva-devotion movement in the region was less radical and more accommodating toward traditional religious, social, and political institutions than thought today.
In contrast to the narrowly sectarian and exclusionary visionthat shapes later accounts, the Ragalegalu is characterized by an opposite impulse, offering an open invitation to people from all walks of life, whose stories illustrate the richness of their devotional lives.
Analysis of this seminal text yields important insights into the role of literary representation of the social andpolitical development of a religious community in a pre-modern and non-Western milieu.
Information
Format: Hardback
Pages: 296 pages
Publisher: Oxford University Press Inc
Publication Date: 16/08/2018
Category: Hinduism
ISBN: 9780190878849
Free Home Delivery
on all orders
Pick up orders
from local bookshops