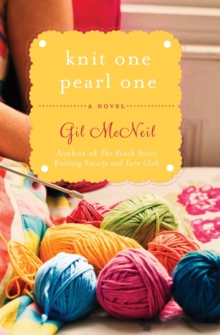 Knit One Pearl One : A Beach Street Knitting Society Novel
Paperback
Information
Format: Paperback
Pages: 406 pages
Publisher: Hyperion
Publication Date: 27/12/2011
ISBN: 9781401341671
Free Home Delivery
on all orders
Pick up orders
from local bookshops
Reviews
Showing 1 - 5 of 15 reviews.
Previous | Next
Review by momgee
16/06/2015
Knit One Pearl One is the third book in the series. Although this is the first one I read, I was caught right up on Jo Mackenzie's life as a single mom and knit shop owner through conversations with her friends, Gran and through her inner dialogue. Easily a stand alone read.This is one one those quiet books that sort of sneaks up on you; not a lot of dramatic action but after only a few pages, I looked upon Jo, her wonderful Gran, her friends Grace, Connie and Ellen as friends of mine too. These characters became very real to me with down-to-earth, credible conversations.Jo is a very likeable character. It's not been easy being widowed from a cheating idiot and then having to raise all alone the two sons she had with him. Oh, and then there is Pearl, her "oops" toddler she had as a result of a fling. The father, Daniel, is still in the picture but solely as a friend. He's a flit-all-over the-globe-not-settling-down type of guy but he does want to be in Pearl's life. I liked his involvement with Jo, her boys and Pearl. Jo was very practical and knew what Daniel was really like so there's no recriminations and no regrets.Jo's life is not all child rearing and nose to the grindstone boredom as her friend Ellen has her own TV talk show and her friend Grace is an international film star who involve Jo and her knitting shop in their lives. She does have a luke-warm sort of love interest in Martin. He's somewhat of a milquetoast type of guy who doesn't really light Jo's fire but he is dependable. Hmmmm .... how long can that go on?McNeil's humorous, occasional laugh out loud and witty writing helps her characters cope with everyday life in a realistic and relatable way. I enjoyed this book quite a bit and would like to read the first two in the series. The British seaside location of the knitting shop just added a little more ambiance to the book.
Review by KateBaxter
16/06/2015
This book speaks well to all the mommies and mothers to be who are trying to maintain a semblance of a normal existence between tantrums and toys thrown down the toilet. Jo MacKenzie, owns a charming British seaside yarn shop which caters to the "Stictch and Bitch" crowd. Formally entrenched in the television production industry, she knows the value of an attractive window display and hers are the talk of the town - mostly good. She shepherds her three small children solo after the loss of her philandering husband in a car accident. In walks Martin and his canine pal, Trevor. Mayhem ensues. Jo is managing to piece her life back together one purl and a knit at a time.
Review by CynWetzel
16/06/2015
A continuation of life for Jo and her children, family, and friends, both famous and not. There's really no plot to these books, just a series of events. Nice light fiction, and I'll say again, my primary complaint is the lack of even one simple knitting pattern in books which spend a great deal of time talking about what is being knitted by the characters. Also, I'm glad I'm beyond my child-rearing years!
Review by shadrach_anki
16/06/2015
This is the third book in the Beach Street Knitters series following the life of Jo Mackenzie as she works to juggle the myriad responsibilities and relationships in her life. I really enjoy the light, gentle tone of the series, and this book continues that trend. I do wish I had taken the time to reread the first two books to reacquaint myself with the characters and situations, but I was able to remember where I was fairly easily after a short period of time.My only real complaint is that at times the language used by the characters could be coarse, and for me, at least, this didn't seem to fit the overall tone and wound up throwing me out of the story.
Review by mldg
16/06/2015
Book 3 of a series. This is the only book of the series I have read. It's a sweet telling of contemporary motherhood. Set in a British seaside town. There is plenty of atmosphere what with all the children "tutting" at there mother, small town jealousy and gossip. There is even a little romance, but mostly it's about a widowed, single mom making a life with her children. A pleasant read.