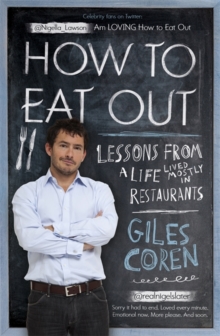 Description
How to Eat Out, Giles Coren's hilarious and practical wisdom on eating out - from McDonalds to Michelin star - is now available in paperback.
It has taken Giles Coren a lifetime to master the art of eating out.From a lonely childhood spent in pub car parks, peering in at a magical world of chickens in baskets and butter in little foil squares, to belching his way through taste clouds of prawn gas and chocolate air at 'the best restaurant in the world', to mock dog in Shoreditch, sperm sushi in Tokyo and delicious fricasseed field mouse in 'Ancient' Rome, Coren has experienced pretty much everything a restaurant can throw at you, and thrown it right back. Or at least caught it, sniffed it, and bagged it up for later.Bad waiters, bum tables, little rip-offs, big cons, old fish, cheap meat, yesterday's soup and tomorrow's gastroenteritis...
Coren tells you how to avoid the lot, and even come out of it with free champagne and a dish named after you by way of apology.It doesn't matter if it's fish and chips, takeaway pizza, a medieval banquet with Sue Perkins or a slap-up nosh at the Hotel de Posh, there is always a right way and wrong way to do it.How To Eat Out is a bit of both.
Information
Format: Paperback
Pages: 304 pages
Publisher: Hodder & Stoughton General Division
Publication Date: 01/02/2013
Category: Hospitality industry
ISBN: 9781444706925
Free Home Delivery
on all orders
Pick up orders
from local bookshops
Reviews
Showing 1 - 1 of 1 reviews.
Review by mstrust
27/08/2015
London Times restaurant critic and Supersizers Go... co-host Coren discusses his dining experiences in both his professional and personal life, what diners should expect in terms of quality and service, searching for quality food on his holidays, food trends and the difference in his dining experience once a restaurant realizes a food critic is there. Coren is funny, mean, crude and knowledgeable.In one chapter, he and a few of his professional friends, including an actor known for playing Falstaff, re-create a drunken five day episode from the life of the artist Hogarth, stopping at taverns and restaurants and trying to eat and drink as authentically as possible. There are passages that are hilarious. But there are also plenty of passages of the mandatory America bashing that has become the pattern for British non-fiction written in the last ten years or so. Probably because I read so many British books, I'm sick of it. Apparently everything published must include a bigoted rant about how loud, uneducated and fat Americans are, and I can't decide if these are books that weren't expected to be read by Americans or if they're really, really hoping Americans do read them. He calls New Yorkers snobs, says the British are above such things as snobbery, then goes on immediately to relay instances of been treated so disrespectfully in British restaurants because they didn't recognize him.Coren writes of the need for doggy bags to become acceptable in British society as restaurants are throwing away too much food and it's harming the planet. Then there's an asterisk, which leads the reader to a paragraph at the bottom of the page, to find this:...I do not want doggy bags to become so universally thought of as a necessity at the end of a meal that we get the sort of escalation they have had in America- the world's fattest country- where the already giant portions that engendered the doggy bag fad have had to be expanded to ensure that people can always take a bag, and where people, giant fat people, actually complain if they have been able to eat everything on their plates and have nothing to take away.Since this was written before Coren's recent North America reality show, and he talks about what America is like, but never actually talks about being in America, I wonder where he got all this information about Americans.