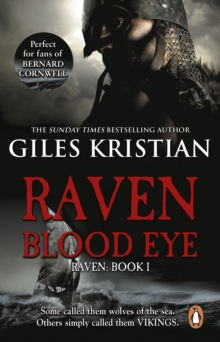 Raven: Blood Eye (Raven 1)
Paperback
Part of the Raven series
Description
The first book in a thrilling Viking trilogy that launched the career of acclaimed historical novelist Giles Kristian - who's now confronting the tumult and devastation of the English Civil War in The Bleeding Land...For two years Osric has lived a simple life, though he is feared and shunned for his mysterious past and blood-red eye.
When raiders from across the sea ransack his village, Osric finds himself taken prisoner by their chief, Sigurd the Lucky.
Immersed in the Norsemen's world and driven by their lust for adventure, Osric proves a natural warrior and forges a deep bond with Sigurd, who renames him Raven.
But the Norsemen's world is a savage one, where loyalty is often repaid in blood, and a young man must become a killer to survive...
Information
Format: Paperback
Pages: 464 pages
Publisher: Transworld Publishers Ltd
Publication Date: 07/01/2010
Category: Historical fiction
ISBN: 9780552157896
Free Home Delivery
on all orders
Pick up orders
from local bookshops
Reviews
Showing 1 - 3 of 3 reviews.
Review by oliver-kaye
16/06/2015
Great start to the Raven saga. He builds such a picture of ancient britain, and the brutality of life.
Review by Moriquen
16/06/2015
I absolutely loved this book and I feel a little saddened that I finished it already. I had many things to do today, but I gladly set them aside to read through the last few chapters of the book. I have always had a soft spot for tales of Vikings (or Norsemen as they are called in the book), but I have read many that failed miserably to give a good idea of how they worked and lived. How their well known bloodlust isn't the only thing that makes them interesting people. This was a fast paced book that left me wanting more. I happily put the other Raven books on my (bookcrossing) wishlist 'cause I can't wait to continue the story.
Review by BrokenTeepee
16/06/2015
This novel takes the reader far back into history - to the time of what we now know as the Vikings as they raided the coastal villages of England. One day young orphan Osric is fishing for mackerel for his master's breakfast and he sees dragons coming out of the fog. He is suddenly surrounded by fierce men and realizes that he will soon be dead. But what really boggles his mind is his ability to understand what they are saying - Osric only knows that he was found as a baby and the village carpenter took him in.The men swear they are there to trade, not make war and so he brings them back to his village where after a night of relative peace the village priest tries to poison the leader and Osric stops the act. All hell breaks loose after that and Osric finds himself taken by the foreigners - along with his master. So begins Osric's true life as he finds his past and his future.This was a thrilling read once Osric found his new life as Raven. Viking tales are always harsh, bloody and full of war and this is no exception. They were hard men living in hard times and they really weren't very nice men at that. But it is a fascinating time in history and one that draws me. Mr. Kristian has created a fascinated character in Osric/Raven and I look forward to following his tale into the next books. The writing is fast paced and while not as deeply historical as other books I have read from this period I did enjoy my time in Raven's world - despite the blood and gore. You can't be a sissy and hang with the Vikings.