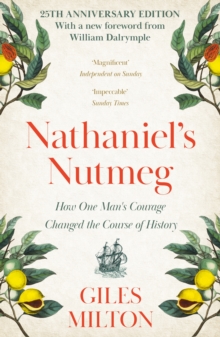 Nathaniel's Nutmeg : How One Man's Courage Changed the Course of History
Paperback
Description
In 1616, an English adventurer, Nathaniel Courthope, stepped ashore on a remote island in the East Indies on a secret mission - to persuade the islanders of Run to grant a monopoly to England over their nutmeg, a fabulously valuable spice in Europe.
This infuriated the Dutch, who were determined to control the world's nutmeg supply. For five years Courthope and his band of thirty men were besieged by a force one hundred times greater - and his heroism set in motion the events that led to the founding of the greatest city on earth.A beautifully told adventure story and a fascinating depiction of exploration in the seventeenth century, NATHANIEL'S NUTMEG sheds a remarkable light on history.
Information
Format: Paperback
Pages: 400 pages, Maps and integrated illustraions
Publisher: Hodder & Stoughton General Division
Publication Date: 11/12/1999
ISBN: 9780340696767
Free Home Delivery
on all orders
Pick up orders
from local bookshops
Reviews
Showing 1 - 5 of 5 reviews.
Review by sylviaxxx
16/06/2015
This book touched me deeply, and I now find myself seeing the humble nutmeg in a new light, along with a rich desire to visit the Spice Islands and experience more about naval life in the tall ships.
Review by Greatrakes
16/06/2015
I loved this book, although a history of the spice wars in South East Asia it reads like a novel. It isn't at all the story Nathaniel Courthope, who appears only toward the end, and any claim he may have to having changed East Asia seems slight to me. Although full of historical detail, Milton still makes Goodies of the British and Baddies of the Dutch, although from what I can see none come out of this with much credit. Milton has a talent for both showing the full horror of the life of sailors, explorers and pirates and for making you want abandon your safe but dull life and set off for the Spice Islands.
Review by mbmackay
16/06/2015
The story of the the first Europeans to reach and trade with the "spice islands" of what is now eastern Indonesian. This should be a gift to a writer of popular history - the fabulous prices paid for nutmeg and cloves, the way the sea route broke the stranglehold of the Arab traders - but if there is scope for THE popular history - this book isn't it. Milton manages to choke a good story. He even has a cute new angle - that Holland traded Manhattan for a tiny spice island - but still can't bring it all together into an interesting narrative. What a shame. Read April 2010.
Review by isabelx
16/06/2015
Shipwrecks, piracy, torture and murders abound in this story of the bloody struggle between the English and Dutch East India companies for control of the lucrative spice trade in the early 17th century.
Review by scubasue59
16/06/2015
A great read and a bit of a history lesson too!