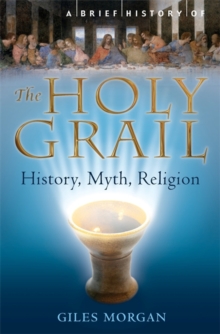 A Brief History of the Holy Grail : The Legendary Quest
Paperback / softback
Description
A Brief History of the Holy Grail charts the origins of the grail story from early Christian gospels through to eastern mysticism and the rise of medieval romances and Arthurian legends.
The grail reappears once more in the story of the Crusades and in particular the rise and dramatic fall of the Knight Templars, who it is said were the guardians of the cup, newly discovered in Jerusalem.
The myths have been more powerful that the facts and the allure of the Grail has attracted the attention of modern writers and artist in search of an ancient symbol of purity: psychologist Carl Jung, composer Richard Wagner, poets William Blake, and T S Eliot, the Pre-Raphelite painters have all been seduced by the legend.
Today the grail quest can be found in films such as Lord of the Rings, Star Wars, Indiana Jones, and Excalibur, as well as Dan Brown's Da Vinci Code
Information
Format:Paperback / softback
Pages:176 pages
Publisher:Little, Brown Book Group
Publication Date:27/01/2011
Category:
ISBN:9781849014113
Also in the Brief Histories series | View all