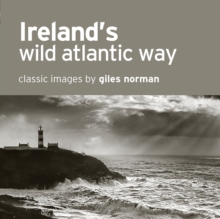 Ireland's Wild Atlantic Way
Hardback
Description
The Wild Atlantic Way is a breathtaking coastal route spanning seven of Ireland's counties on its west coast.
Acclaimed photographer Giles Norman explores this beautiful Irish coastline, from the inviting beaches of West Cork to the rugged sea cliffs of Donegal.
In photographs and concise narrative, he depicts this magnificent 2,500km-long coastline and captures the essence of this unique place.
Throughout the book, laid out in sections that coincide with the stages of the Wild Atlantic Way, a window is opened for all to observe the beauty of Ireland's west coast, with dramatic images of beaches and rugged headlands intermingled with traditional cottages, fragile flora and shadowed skies, and the wild remoteness of the windswept Aran Islands.
These images capture the timeless splendour of Ireland.
Giles' photographs of the Irish landscape evoke a purity of vision, largely stripped of manmade intrusion.
Preferring to keep his pictures 'real', he shuns the special effects of modern photography.
A shaft of light between clouds, a breaking wave, the elegance of a single flower, all his images showcase the best Ireland has to offer.The Wild Atlantic Way inspires awe and admiration and Giles's photos have captured its majesty in remarkable black and white.
What you see is what he saw.
Information
Format: Hardback
Pages: 160 pages
Publisher: The Collins Press
Publication Date: 09/05/2016
Category: Photographs: collections
ISBN: 9781848892415