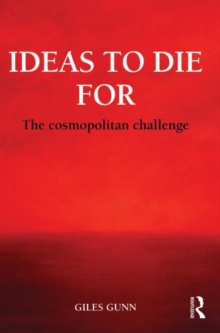 Ideas to Die For : The Cosmopolitan Challenge
Paperback / softback
Description
Cosmopolitanism and Its Discontents seeks to address the kinds of challenges that cosmopolitan perspectives and practices face in a world organized increasingly in relation to a proliferating series of global absolutisms - religious, political, social, and economic.
While these challenges are often used to support the claim that cosmopolitanism is impotent to resist such totalizing ideologies because it is either a Western conceit or a globalist fiction, Gunn argues that cosmopolitanism is neither.
Situating his discussion in an emphatically global context, Gunn shows how cosmopolitanism has been effective in resisting such essentialisms and authoritarianisms precisely because it is more pragmatic than prescriptive, more self-critical than self-interested and finds several of its foremost recent expressions in the work of an Indian philosopher, a Palestinian writer, and South African story-tellers.
This kind of cosmopolitanism offers a genuine ethical alternative to the politics of dogmatism and extremism because it is grounded on a new delineation of the human and opens toward a new, indeed, an "other," humanism.
Information
Format: Paperback / softback
Pages: 184 pages
Publisher: Taylor & Francis Ltd
Publication Date: 18/03/2013
Category: Economic theory & philosophy
ISBN: 9780415813884
Free Home Delivery
on all orders
Pick up orders
from local bookshops