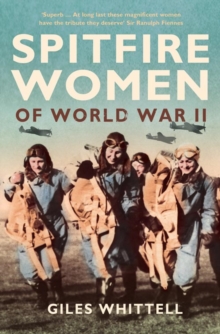 Spitfire Women of World War II
Paperback
Description
This is the incredible true story of a wartime sisterhood of women pilots: a group of courageous pioneers who took exceptional risks to fly Spitfires, Hurricanes and Lancasters to the frontlines of World War II.The women pilots of Air Transport Auxiliary came from all countries and backgrounds.
Although not allowed into combat, they demonstrated astonishing bravery in their supporting role: flying unarmed, without radios or instruments, and at the mercy of the weather and enemy aircraft, they delivered battle-ready planes to their male counterparts, the fighter pilots of the RAF.The story of these remarkable women pilots - among them Amy Johnson and Lettice Curtis - is a riveting account of women in wartime, and a fitting tribute to their spirit and valour.
Information
Format: Paperback
Pages: 304 pages
Publisher: HarperCollins Publishers
Publication Date: 01/07/2008
Category: True war & combat stories
ISBN: 9780007235360
Free Home Delivery
on all orders
Pick up orders
from local bookshops
Reviews
Showing 1 - 1 of 1 reviews.
Review by AdonisGuilfoyle
16/06/2015
The 'spitfire women', or female pilots of the ATA (Air Transport Auxiliary), whose stories are touched upon in Giles Whitell's book are inspirational. In fact, they are almost verging on the stuff of fiction, especially the glamorous Diana Barnato Walker (I downloaded her memoirs, <i>Spreading My Wings</i>, after finishing this general account of the 'atagirls'). Mr Whittell's patchwork narrative, however, left me wanting, and the Kindle version doesn't even contain photographs! He gives the background of the ATA, and spices up history with descriptions of the more dramatic flights, but I didn't really feel like I got to 'know' any of the women, even though Whittell personally interviewed some of them. This book - or maybe the TV documentary which prompted me to look up and buy the source material - is a great introduction to some of the relatively unsung heroes of the Second World War, yet doesn't give the full picture (or any pictures at all, in my case!)The women, though, are truly incredible. Yes, the original set, selected by Pauline Gower, were from privileged backgrounds (they had to be, to afford flying lessons before the war), but the whole concept of a group of women flying war planes around the country, 'without radios, instrument training or weapons', in perilous weather conditions and under risk of enemy fire, was still a staggering achievement, then and now. I'm reminded of that quote from Ginger Rogers, who once said that she did everything Fred Astaire did, only backwards and in high heels! Women like Diana Barnato Walker and Lettice Curtis were skilled, professional and very brave, just like the men who actually flew into combat, only the women were then more or less pushed back into the kitchen after the war.A fair and concise impression of the 'spitfire women', told in a patchy, 'anecdotal' style.