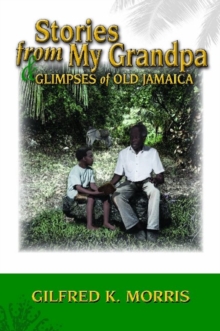 Stories from My Grandpa & Glimpses of Old Jamaica
Paperback / softback
Description
The first section of this two-part work focuses on the author s grandfather, Samuel M.
Morris, and is a labour of love a tribute to a parent who was also mentor, community leader, farmer and tradesman, exporter of farm crops, village lawyer, and local repository of knowledge.
In a life that spans the 19th and 20th centuries he witnesses many of the changes that have transformed our young society. With gripping poignancy, the author tells us of the tragic loss of his great great grandfather in the slave unrest of 1830-1831.
The recollections continue with the challenge his grandfather put to the local German Moravian pastor as a young, but self-assured schoolboy such challenges to authority unheard of in that day.
Samuel Morris also enjoyed his days as apprentice carpenter and church builder, and was quite current with the politics of the period.
A patriot and great admirer of the British Empire, he is present in Kingston for the celebrations of Queen Victorias Golden Jubilee in 1887, and at the eruption of the Boer War in 1899 he gives his undying support to his dear old Mother Country.
In the second section, the focus is on the life and customs of the strong Moravian community of Free Village descendants a proud community that grew out of the post-emancipation work of the Moravian Church.
We are given a window into their daily lives their religious practices, common ailments, and other life challenges.
This section ends with memories of the old capital city of Kingston, and the optimism for a reclaimed, restored, and revitalized city in the not too distant future.
These stories look back at the old uncomplicated Jamaica of a bygone era, where life meandered on with a pleasing measure of peace and quiet.
We have come a long way and gained much, but how much have we lost in making that journey?
Enjoy reading, and wisely contemplate.
Information
Format: Paperback / softback
Pages: 126 pages
Publisher: Arawak
Publication Date: 01/01/2013
ISBN: 9789769557963