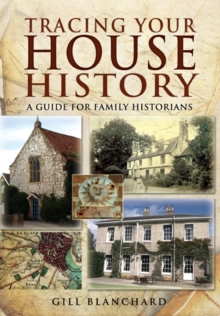 Tracing Your House History : A Guide for Family Historians
Paperback
Description
Anyone who wants to find out about the history of their house - of their home - needs to read this compact, practical handbook.
Whether you live in a manor house or on a planned estate, in a labourer's cottage, a tied house, a Victorian terrace, a twentieth-century council house or a converted warehouse - this is the book for you.
In a series of concise, information-filled chapters, Gill Blanchard shows you how to trace the history of your house or flat, how to gain an insight into the lives of the people who lived in it before you, and how to fit it into the wider history of your neighbourhood.
A wealth of historical evidence is available in libraries, archives and record offices, in books and online, and this is the ideal introduction to it. Gill Blanchard explores these resources in depth, explains their significance and directs the researcher to the most relevant, and revealing, aspects of them.
She makes the research process understandable, accessible and fun, and in the process she demystifies the sometimes obscure language and layout of the documents that researchers will come up against.
Information
Format: Paperback
Pages: 224 pages, over 40 illustrations
Publisher: Pen & Sword Books Ltd
Publication Date: 20/03/2013
Category: Family history, tracing ancestors
ISBN: 9781848842540
Free Home Delivery
on all orders
Pick up orders
from local bookshops
Reviews
Showing 1 - 3 of 3 reviews.
Review by AnglersRest
16/06/2015
I was recently given a copy of this book to review and what a delight it was.This book is more than a guide to researching the history of your house, or a house of interest. It is a font of interest if you are seeking to research and understand the social and domestic lives of people and their communities from early times.The book is comprehensively laid out over 7 chapters and gently walks readers and researchers through where to find information. Starting with indexes, catalogues and transcriptions before moving along to finding archives in Records offices, local history libraries, heritage, local and family history organisations and numerous online resources.The section on dating your home and house style is very comprehensive, starting with looking at architects and their role and then moving along to dating a building.This nicely links into the third chapter which features architecture styles across the ages, commencing with Prehistoric through Norman, Medieval, Tudor, Stuart, Georgian, Victoria and Edwardian times. This chapter also looks at Modern homes, before moving onto discuss and provide resources for model villages, Garden Cities and Philanthropic Schemes, new towns and council housing. Also touched upon is the Public Health and slum clearances, why they were necessary and what gave rise to them in the first place along with locating the redevelopment and clearance records.The book progresses to the process of building local knowledge, by looking at local histories, the importance of oral histories, local tales & legends and the foundations they can provide in research. This is followed by two important areas; finding out about local history and then about the resources of Societies, groups and information. Moving on from that is a section that looks at the visuals of such a study; photographs and postcards, along with paintings and drawings which add illustrative social context to your study.Chapter 5 is a very full and comprehensive chapter on resources. Many will be already known to family historians, such as Birth, Marriage and Death records, Parish records, and Census returns. Also included is business and occupation records, directories and gazetteers, Electoral registers and poll books, Fire Insurance records, Glebe and estate records. Various taxes are looked at, such as Hearth, Window and Land taxes. Land registry, deeds, Manorial records, Maps and plans. The National Farm Survey 1941-1943 which is a an often neglected source in family history research, Quarter session records, Land Owner returns 1873 – 1876 and Valuation Office Survey 1910 – 1920 and finally Wills. A real bonus for this chapter is the inclusion of the useful and comprehensive time frame for each resource.The final two chapters deal with how you can present and write your own house history, but similarly this can apply should you be researching a One-Place study, before moving along to the directory of resources looking at Organisations, Websites and a selected Bibliography. There is an index at the end of the book.All the way through there are illustrations in black and white with links to numerous and various web pages. This book has been thoroughly researched and presented; and I believe it should be considered the book for those researching houses or a One-Place Study. It was a true delight to read and review.Disclaimer – I was provided with a copy of the book in exchange for an honest review.
Review by Violetthedwarf
16/06/2015
Review by Violetthedwarf
16/06/2015
Also by Gill Blanchard