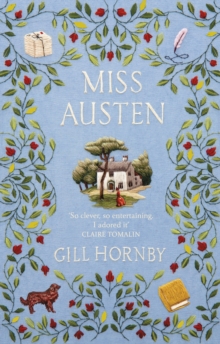 Description
________________________________'So good, so intelligent, so clever, so entertaining - I adored it.' CLAIRE TOMALIN'This is a deeply imagined and deeply moving novel. Reading it made me happy and weepy in equally copious amounts.'KAREN JOY FOWLER, author of The Jane Austen Bookclub________________________________A wonderfully original, emotionally complex novel that delves into why Cassandra burned a treasure trove of letters written by her sister, Jane Austen - an act of destruction that has troubled academics for centuries. 1840: twenty three years after the death of her famous sister Jane, Cassandra Austen returns to the village of Kintbury, and the home of her family's friends, the Fowles. She knows that, in some dusty corner of the sprawling vicarage, there is a cache of family letters which hold secrets she is desperate should not be revealed. As Cassandra recalls her youth and her relationship with her brilliant yet complex sister, she pieces together buried truths about Jane's history, and her own. And she faces a stark choice: should she act to protect Jane's reputation? Or leave the contents of the letters to go unguarded into posterity ... Based on a literary mystery that has long puzzled biographers and academics, Miss Austen is a wonderfully original and emotionally complex novel about the loves and lives of Cassandra and Jane Austen. ________________________________'Extraordinary and heart-wrenching, Miss Austen transported me from page one.
A remarkable novel that is wholly original, deeply moving, and emotionally complex.
A gift to all Austen lovers.'LARA PRESCOTT, author of The Secrets We Kept'Gill Hornby ingeniously imagines what Cassandra Austen's own life might have been like, both before and after Jane's untimely death, casting a different light on the familiar biographical picture without in any way distorting it.' DEIRDRE LE FAYE, editor of Jane Austen's Letters'Miss Austen is affecting, thought-provoking, and makes you think about both Jane and Cassandra Austen in a new light.' HELENA KELLY, author of Jane Austen, The Secret Radical'A pitch perfect novel, fond and atmospheric.
It reads as if Gill was born to write Cassandra's story, and she brings her whole witty and sympathetic self to the task.' KIRSTY WARK'Tender and touching ...
Hornby deftly describes the psychological toll that such uncertainly took on Jane, and movingly celebrates the fortitude of Cassandra whose greatest love was her sister' DAILY MAIL'Utterly absorbing.
The lives of the Austen sisters are recreated with a brilliant sureness of touch that can only be achieved by deep study of the period.' ARTEMIS COOPER'A wonderfully original, emotionally complex novel that delves into why Cassandra burned a treasure trove of letters written by her sister, Jane Austen' IRISH EXAMINER'In this subtle and delicate novel, Gill Hornby has created a clever, warm-hearted character in Cassandra, Jane Austen's sister' WOMAN & HOME'Perfectly evokes the mid-19th century and a woman looking back on the joys and disappointments of her life' RED'Engrossing ... the warm relationship between the sisters is particularly well written.' GOOD HOUSEKEEPING
Information
Format: Hardback
Pages: 416 pages
Publisher: Cornerstone
Publication Date: 23/01/2020
Category: Historical fiction
ISBN: 9781529123760
Save 30%
Free Home Delivery
on all orders
Pick up orders
from local bookshops