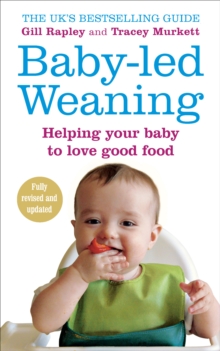 Baby-led Weaning : Helping Your Baby to Love Good Food
Paperback
Description
Contrary to popular belief, there is no research that supports the current mainstream view that babies should be weaned by being spoon-fed purees.
Self-feeding allows babies to use their natural abilities to explore taste, texture, colour and smell.
It encourages independence and confidence by allowing them to experiment with foods at their own pace and helps to develop hand-eye coordination and chewing.
Baby-led Weaning is a practical and authoritative guide to introducing solid food, enabling your child to grow up a happy and confident eater.
It shows parents why baby-led weaning makes sense and gives them the confidence to trust their baby's natural skills and instincts.
With practical tips for getting started and the low-down on what to expect, Baby-led Weaning explodes the myth that babies need to be spoon-fed and shows why self-feeding from the start is the healthiest way for your child to develop.
Your baby is allowed to decide how much he wants to eat, how to eat it and to experiment with everything at his own pace.
Baby-led weaning is a common-sense, safe, easy and enjoyable approach to feeding your baby.
No more purees and weaning spoons, and no more mealtime battles.
Simply let your baby feed himself healthy family food.
Information
Format: Paperback
Pages: 256 pages
Publisher: Ebury Publishing
Publication Date: 06/11/2008
Category: Pregnancy, birth & baby care
ISBN: 9780091923808
Free Home Delivery
on all orders
Pick up orders
from local bookshops
Reviews
Showing 1 - 2 of 2 reviews.
Review by francescadefreitas
16/06/2015
This book is about feeding your baby regular food instead of boring or overprocessed baby food. It relies heavily on anecdote, and a gorgeous set of photos of small babies chowing down on amazing dinners.I really like the concept, but I found much of the material didn't apply if you didn't start feeding your baby food at 6 months - the food suggestions are linked closely to developmental stages, so if you missed the boat, you're playing catch up.
Review by alsocass
16/06/2015
I hate when common-sense parenting methods get labelled with a phrase and we all begin referring to it by the term. e.g. "Did you BLW?".<br/><br/>Baby led weaning is very simply letting your child wean themselves naturally. You don't give them special foods, you don't buy or make fancy purees, and there is no need for any "toddler food" recipe books.<br/><br/>You could the family dinner, you serve it up and you all eat. I used this method and it works.<br/><br/>The huge problem that I have with this book is the contradiction in ideals that it displays. On one hand it encourages you to do things naturally and just let your child eat whatever you are eating. This is great advice, not only is it a much simpler way for your child to learn to eat, it also requires less effort on your part (no extra cooking), and your child learns to enjoy the foods that you eat (kids need to taste foods multiple times to develop a like for them). So feeding kids what you are eating is perfect. So the book advocates for this, which seems like a really wholesome natural, back-to-our-roots kind of thing to do.<br/><br/>Then we contrast this with the book telling you exactly what you need to feed your child. e.g. you must give whole broccoli stalks to your child, and not panic when they gag. This part of the book (and the subsequent movement) completely rankles me. Basically the book is telling you to ignore your instincts, which I cannot support. My personal belief is that if you feel the need to puree, mash, or pre-chew the dinner in order to make it easier for you child to eat, then that is absolutely what you should do, you are all are the mother.<br/><br/>I still don't get what BLW supporters don't see how conflicting the two ideas are.