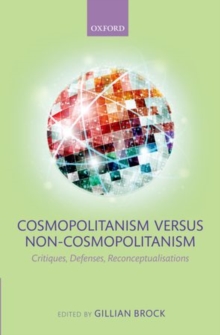 Cosmopolitanism versus Non-Cosmopolitanism : Critiques, Defenses, Reconceptualizations
Hardback
Description
The debate between cosmopolitans and non-cosmopolitans flourishes.
Contributors continue to disagree over at least fourteen core issues analyzed in this work, including these questions: What is distinctive about a cosmopolitan approach to matters of justice?
What does the commitment to the ideal of moral equality entail for global justice? Does membership in associations, especially national ones, matter to our duties to one another in the global context?
Does theglobal economic order violate the rights of the poor or harm their interests in ways that require reform or redress?
What is it to be a good "world citizen" and is this in conflict with local duties and being a good citizen of a state?
To what extent are cosmopolitan and special duties reconcilable?Do cosmopolitan or non-cosmopolitan theories provide a better account of our obligations or a more useful framework for mediating the interests of compatriots and non-compatriots?
This timely volume advances the discussion on many of the questions over which cosmopolitans and non-cosmopolitans continue to disagree.
All the chapters explore new work and contribute to advancing the debate, and none has been published previously.
Together, they demonstrate how nuanced and sophisticated some of the debate has become. The variety of topics that the debate encompasses suggests that mastering the issues is important to understanding much contemporary moral and politicaltheorizing.
Information
Format: Hardback
Pages: 352 pages
Publisher: Oxford University Press
Publication Date: 11/07/2013
Category: Ethics & moral philosophy
ISBN: 9780199678426
Free Home Delivery
on all orders
Pick up orders
from local bookshops