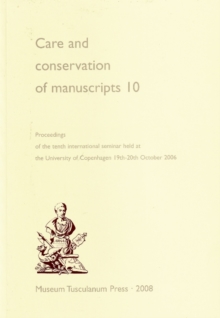 Care & Conservation of Manuscripts 10 : Proceedings of the Tenth International Seminar Held at the University of Copenhagen, 19-20 October 2006
Paperback / softback
Description
Text in English & German. This volume contains articles of relevance for books, manuscripts and libraries, for example new acquisitions in the National and University Library of Iceland, Icelandic manuscripts in the British Library, types of medieval bindings in the University Library of Uppsala and marks of previous ownership on books in the Royal Library in Copenhagen, a digital exhibition resulting from the great theft of books from the library that has been described in Care and conservation 9, on the binding structures of medieval Armenian manuscripts, and on a method employed for the examination of the tools used in the cover decoration of Byzantine manuscripts.
There are also articles on plaited silk strings found on medieval documents, on vegetable dyes in English medieval manuscripts, on paper manufacture in Denmark in the 17th century, and on traditional methods of paper production in Nepal.
In connection with storage conditions there are presentations of an investigation of the air quality in the new archive at the Arnamagnaean Collection in Copenhagen with passive climate control, of considerations in connection with the planning of new book stores in the Royal Library there, and a report of a Russian-Dutch project on methods for assessing damage in large collections.
On conservation in general there are accounts of developments in the conservation of parchment in Hungary, of the treatment of damage to paper manuscripts caused by iron-gall ink corrosion and of the use of synthetic polymers and various types of glue in paper conservation.
On the conservation of individual manuscripts there are accounts of the conservation of the section of the 4th-century bible manuscript Codex Sinaiticus that is kept in the British Library, of the 16th-century paper manuscript known as the Fish Book which is kept in the Royal Library in the Hague, and of a group of Turkish Quran-manuscripts kept in the Mevlana Musum in Konya.
Finally there are descriptions of the procedures involved in the digital registration of the manuscript collection in St Catherine's monastery in Mount Sinai, and of a considerate method for photographing medieval manuscripts prior to digitisation.
Information
Format: Paperback / softback
Pages: 284 pages, b/w photos
Publisher: Museum Tusculanum Press
Publication Date: 15/06/2008
ISBN: 9788763507943
Free Home Delivery
on all orders
Pick up orders
from local bookshops