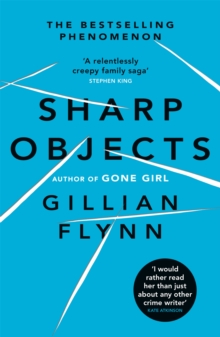 Description
Some scars never heal . . . An addictive thriller from the author of the mega bestseller GONE GIRL.When two girls are abducted and killed in Missouri, journalist Camille Preaker is sent back to her home town to report on the crimes.Long-haunted by a childhood tragedy and estranged from her mother for years, Camille suddenly finds herself installed once again in her family's mansion, reacquainting herself with her distant mother and the half-sister she barely knows - a precocious 13-year-old who holds a disquieting grip on the town.As Camille works to uncover the truth about these violent crimes, she finds herself identifying with the young victims - a bit too strongly.
Clues keep leading to dead ends, forcing Camille to unravel the psychological puzzle of her own past to get at the story.
Dogged by her own demons, Camille will have to confront what happened to her years before if she wants to survive this homecoming.
Information
Format: Paperback
Pages: 336 pages
Publisher: Orion Publishing Co
Publication Date: 17/09/2007
ISBN: 9780753822210
Other Formats
EPUB from £5.99
eAudiobook MP3 from £34.55
Mixed media product from £19.45
Free Home Delivery
on all orders
Pick up orders
from local bookshops
Reviews
Showing 1 - 4 of 4 reviews.
Review by hagelrat
16/06/2015
asically Camille is sent home by her editor to work on a story from her small town, of little girls that have been abducted and murdered with a horrible detail. She has a tragic past, heaps of personal damage and is apparently a functioning alcoholic. Camille has to revisit her twisted family, her old friends and the horrors of her past while working to get a story.In fairness, it's a fairly good story, with some genuinely creepy moments and some really disturbing elements. It's a tad predictable at times, and doesn't quite make it into horror for me. It was a midpaced read, not exactly hard work, but not one I was rushing through to find out what happened next, partially because I found it hard to care about any of the characters. I found the Epilogue a bit weird too. Readable but nothing special.
Review by Iira
16/06/2015
Creepy and somewhat disturbing. Great!
Review by lisa.isselee
16/06/2015
This book was truly amazing !<br/>It had me on the edge of my seat almost the whole time. It's thrilling, creepy and a little sad.<br/>I adore Gillian Flynn's writing style and her endings are always so darn good !<br/>
Review by adpaton
16/06/2015
This is the debut novel of Gillian Flynn, author of the best seller Gone Girl, but it reads like the work of a seasoned veteran, full of dark twists, perverted pasts and the threatening claustrophobia of an untenable situation married to the humid heat of the America small town south. Camille Preaker is the illegitimate daughter of Adora, Wind Gap royalty, born when she was just 17, father unknown. Her position in the town protects her from a scandal that would destroy many others: instead she inherits a fortune and marries a millionaire. Daughter Camille however has a disturbed and unhappy childhood and after the death of a younger sister, starts cutting herself until she has barely an unmarked spot on her body.Camille is working as a reporter in Chicago when her editor sends her back to Wind Gap to look into the murders of two adolescent girls: it's back to her cold mother Adora, her vague and distant stepfather Paul, and her half sister Amma, a manipulative and disturbed brat some 17 younger than she is. Her investigation brings confronts her with her past, with perversions and secrets, with deep unhappiness and a malfunctioning community. Sharp Objects is an exciting read by an assured writer.