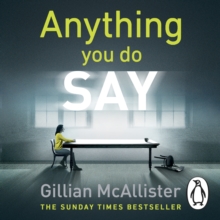 Anything You Do Say : THE ADDICTIVE psychological thriller from the Sunday Times bestselling author
eAudiobook MP3
Please note: eAudiobooks can only be purchased with a UK issued credit card.
Description
Penguin presents the audiobook edition of Anything You Do Say by Gillian McAllister, read by Katie Clarkson-Hill. 'A Sliding Doors thriller with a moral dilemma at its heart.
Brilliant' Claire Doulas, bestselling author of Last Seen AliveIt's the end of the night.
You're walking home on your own. Then you hear the sound every woman dreads. Footsteps.Behind you. Coming fast. You're sure it's him - the man from the bar who wouldn'tleave you alone. You make a snap decision. You turn. You push. Your pursuertumbles down the steps. He lies motionless, face-down on the floor. Now What? Call 999Wait for the police to arrive. For judgement, for justice,whatever that may be. You just hope you husband, family and friends, everyoneyou love, will stand by you. RunStay silent. You didn't mean to do it. You were scared, youpanicked. And no one saw. No one will ever know. If you leave now. If you keepquiet. Forever. Which is it to be?Praise for Anything You Do Say'The novel is ingenious . . . a beautiful and original book'Claire Kendal bestselling author of The Book of You'An expertly crafted novel full of drama and tension. . . Animpossible feat accomplished with great skill. Bravo' Imran Mahmood author of You Don't Know Me'An addictive, exciting and devilishly clever book . . .exceptional' Holly Seddon author of Try Not To Breathe
Information
Format: eAudiobook MP3
Run-time: 11 hours 36 mins
File size: 0MB
Publisher: Penguin Books Ltd
Publication Date: 19/10/2017
ISBN: 9781405935814
Other Formats
Paperback / softback from £7.89
EPUB from £3.99
Download and listen
eAudiobook