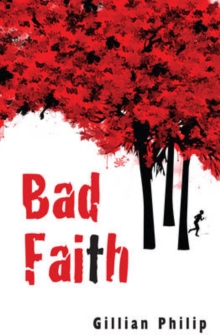 Free Home Delivery
on all orders
Pick up orders
from local bookshops
Reviews
Showing 1 - 3 of 3 reviews.
Review by nbmars
16/06/2015
This novel by Scottish author Gillian Philip just reaches up and punches you in the guts. It's clever, it's a bit horrific, and it's very, very good.Fifteen-year-old Cassandra, as the daughter of a cleric, lives a relatively safe and "normal" life in the theocratic dictatorship run by the One Church with its roving gangs of formal and informal posses of enforcers. In spite of the seeming normality, however, her older brother Griff is an alienated Goth, and her boyfriend Ming is from a persecuted family of infidels. Her mother and father whisper a lot, and her dad seems to have lost his faith. Yet they all seem to be muddling through well enough until one day, while in the woods, Cass and Ming discover the dead body of the Bishop of the One Church. Cass, afraid her dad is the murderer, gets Ming to help her hide the body.Cassie and Ming struggle to find out the truth, even as they fight the avenging angels of the One Church, and their growing love and need for each other – against the law in this morally rigid state.<strong>Evaluation</strong>: There are so many things I really loved about this book. I loved that Cassie's family was "misfunctional" rather than dysfunctional – i.e., though externally much seemed amiss, inside they loved and supported one another quite a bit. And the reader can't help liking them as well. The social and cultural commentary is sharp and insightful. I loved the chapter headings: once you read what happens in the chapter, you realize how clever they are. Even the title is a double or even triple entendre. And last but not least, I even loved the "About the Author" page – it gives you a sense of the personality of the author: the humor, honesty, and love that also shine through in the book, in spite of the horror:"Gillian Philip was born in Glasgow and has been writing all her life, starting with sort but frenetic novels about Captai Scarlet and The Man From UNCLE (having massive crushes on both). She has worked as a barmaid, theatre usherette, record store assistant, radio presenter, typesetter, and political assistant to a parliamentary candidate. While living in Barbados, where her steadiest job was as a singer in an Irish bar, she took up writing professionally, and wrote many short stories for women's magazines. In 2001 she moved back to Scotland, and now lives in Morayshire with husband Ian, twins Lucy and Jamie, and Oscar, the fastest terrier in the west."I will definitely be seeking out more work by this very talented author.<strong>Age Group</strong>: The dystopic country of Panem of <em>The Hunger Games</em> seems like The Elysian Fields compared to this place. There are some bad things that happen that would cause me (in my naivety, perhaps) not to suggest it for kids younger than 15.
Review by mcelhra
16/06/2015
Bad Faith is a dystopian young adult novel. Set in a theocratic dictatorship somewhere in Europe, it follows Cassandra, the daughter of a rector in the ruling One Church. She and her boyfriend Ming discover a corpse in the woods - someone has killed the Bishop Todd, leader of the One Church. The story twists and turns, leaving Cassie, Ming and the reader guessing to the last who killed the Bishop and why.In addition to being a great mystery, this book is a brilliant political satire, pointing out that society's problems will not just disappear if everyone follows the same religion. One part that particularly cracked me up: someone is listing all the God-fearing nations in the world and she names The United Midwestern States as one of them. Wonder what happened to the poor heathens on the coasts?I highly recommend this book for fans of dystopian fiction and/or mysteries.
Review by lawral
16/06/2015
How do you not love a book that starts like this:Before I slipped on the mud and fell over the Bishop, our family didn't have a lot to do with murder.A little, but not much.p.1When Cassandra literally stumbles onto the body of an important Bishop, her father's boss, she and her best friend Ming hide the body. They don't know who killed the Bishop, but they know someone in Cassandra's family is involved. Her family has been ruled by a complicated web of secrets that dates back to before her parents were even married. As more and more of these secrets come out into the open, Cass's world falls apart a little bit more. She has to deal with harboring her own secret about the location of the Bishop's body while she finds out all kinds of things about her parents and brother, tries to avoid a pack of school bullies with religion on their side, and deals with lingering memory and cognitive issues from being his by a car years earlier that just make everything more confusing and complicated. Oh, and she falls in love with her best friend Ming.As if all that isn't enough for one girl to deal with, it's all happening in the middle of a theocratic dictatorship and her dad works for the church. One Church isn't like a church in the way that we think of it today; it's more an instrument of the state. There is a definite religion involved, and it seems like it is Judeo-Christian based, but I don't think it's supposed to be any religion that is recognizable today. Cass's father is practically a heretic because he still carries a cross from when he was a rector in a pre-One Church church. No one really believes in what the One Church preaches, they just all say that they do because it's illegal not to. Except Ming and his parents, and boy do they pay for it. As a consequence of their non-belief they lose a large property, Ming gets beat up at school constantly with no consequence other than being constantly suspended for "provoking" other kids, and Ming's parents are constantly being pulled in for questioning by the police. All in the name of the One Church. While some may read this as a book that is anti-religion, I think that Philip has done a wonderful job of making it a book that is anti-absolute power instead. When a large group of people above is the law while everyone else is constantly looking over their shoulder afraid of being watched or heard, things can never end well.I didn't talk about it in my review, because it comes out late enough in the story to be a little spoilery, but sexual abuse is also present. Nothing is described in detail, but it's there, and it is perpetrated by a "celibate" religious man. This probably makes the book very controversial, but this person's status as above the law is the enabling factor in the abuse, not his perceived celibacy or religious role.Book source: I bought it.