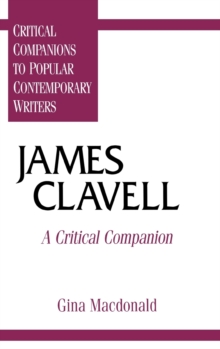 James Clavell : A Critical Companion
Hardback
Description
Until now, popular novelist James Clavell has not been recognized for his literary achievements and his contributions to cross-cultural understanding.
This critical study seeks to rectify that omission. It shows how Clavell's depiction of cross-cultural encounters of Westerners with the East paves the way for modern multicultural studies.
His novels about culture clash help Western readers see with Eastern eyes by taking them into the minds and culture of the Chinese, Japanese, and Iranians.
The study provides close textual analysis of each of his novels in turn and shows how Clavell contrasts the manners, values and lifestyles of Easterners and Westerners in a narrative style that combines a number of literary genres and traditions to create a blockbuster of breadth and depth. This study analyzes all of Clavell's fiction: King Rat, Tai-Pan, Shogun, Noble House, Whirlwind, and Gai-Jin.
Each chapter discusses one novel and is divided into sections on plot and structure, character development, themes, historical foundations, genre conventions, and alternative perspectives from which to read the novel.
A biographical chapter illuminates the influence of Clavell's life experiences on his writing.
A chapter on his literary heritage discusses the influence of a variety of genres on his fiction and shows how he weaves a multiplicity of genre threads into a subtle, complex, inviting tapestry of Eastern and Western styles.
A genealogy table schematizing the complex family relationships that interlock Clavell's novels and a glossary of foreign language words used in his novels will help the reader to move easily through his canon.
This work will help students and general readers to appreciate the cross-cultural aspects of the craft of Clavell's fiction.
A key purchase for secondary school, public, and community college libraries.
Free Home Delivery
on all orders
Pick up orders
from local bookshops
Also in the Critical Companions to Popular Contemporary Writers series | View all