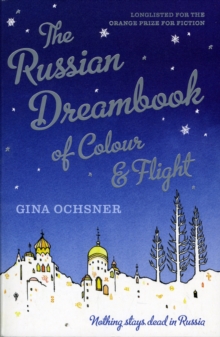 The Russian Dreambook of Colour and Flight
Paperback
Description
In her very dusty provincial museum of fake exhibits lovingly crafted from cardboard, wire and glue, Tanya dreams of Russian art's long colors and wonders when Yuri will stop fishing long enough to notice how she adores him, while she tries the zero-one-zero diet in order to meet Aeroflot's maximum waist requirements for trainee cabin-crew.
When her boss at the museum gives her the vast responsibility of cultivating some potential benefactors from America, and persuading them to give their money to the very needy All-Russian All-Cosmopolitan City Museum, Tanya finds herself involuntarily enlisting all her neighbors in the scheme.
But their shared hopes of riches and dreams of escape start to rot. And the rounded corpse of Mircha in the courtyard refuses to decompose, as the snow turns it into a hill, and its spirit takes flight around the apartments, dispensing more advice than anyone desires, goading the men, annoying the women, in a block where too many mothers and fathers are missing and too many memories lie stagnant on old battlefields.
Information
Format: Paperback
Pages: 384 pages
Publisher: Granta Books
Publication Date: 01/04/2010
ISBN: 9781846270093
Free Home Delivery
on all orders
Pick up orders
from local bookshops
Reviews
Showing 1 - 1 of 1 reviews.
Review by saratoga99
16/06/2015
The Russian Book of Color and Flight offers provocative insight into what has happened in post-Soviet Russia. As it continues playing "King of the Hill" by fighting wars with Cheynya, Bosnia, Afganistan, Georgia, etc. (not in a historical timeline), the ordinary Russian bears the brunt of such folly. Muslims, Jews, and Christians circumspectly inhabit a condemned building. While there is no plot per se, the narratives are provided by the main characters in the building. How they live (totally influenced by their various religions), their jobs, the absolute lack of sustainable goods, e.g., fuel, ink, money, and food. Though plausible, it is absurdly unreal. Dystopian fiction with huge satirical swathes. Tanya, abandoned by her mother and raised by her cynical grandmother, "re-creates art" in the museum in which she works. Tanya also incessantly writes in her blue notebook, her constant companion. What is notable about her style of writing is the recurring inclusion of her view of the extraordinary colors visible despite her bleak surroundings, and how one would create such colors, e.g., a "Prussian blue" versus a "French blue," etc. I found her to be one of the most interesting characters in the book.The least enjoyable part of the book was the recurring references to the significance of the communal outdoor privy, its occupants and their daily business within its confines. There also is a mystical component with Azade, the privy attendant who is able to divine the troubles of the occupants by their gaseous emissions and their meager ordure. Despite this continously annoying segue, I could not stop reading this book. The author's writing is phenomenal, and I would like to read more of her work.