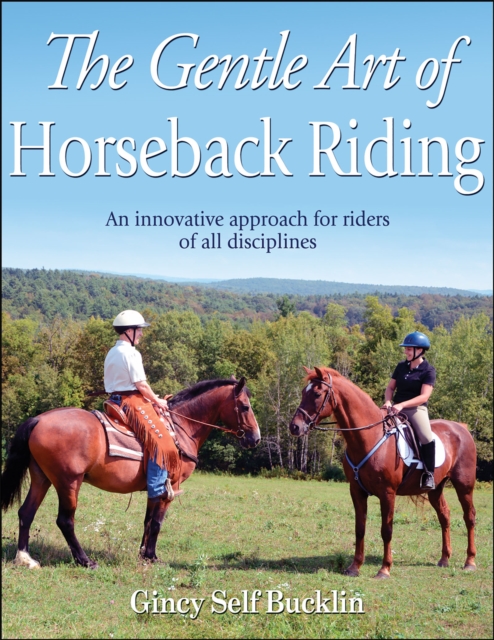 The Gentle Art of Horseback Riding
Paperback / softback
Description
Horseback riding is one of the world's most popular activities.
Much has been written about the various styles, techniques, and competitive events in the sport.
But all too often resources, authors, and even instructors neglect the most important and unique aspect of riding: the relationship between rider and horse. In The Gentle Art of Horseback Riding, Gincy Self Bucklin shares her horse-friendly approach for developing comfortable, competent riders.
Its step-by-step lesson format makes it an excellent resource for those who teach riding to others. Whether you are just beginning or have ridden before, Bucklin's methods can improve your skills and make you a better, more confident rider. Inside The Gentle Art of Horseback Riding, you'll learn that the key to success at every level is understanding your horse and how to relate to him physically, mentally, and emotionally.
This will help you advance more quickly, feel more confident, and have more fun. You'll also discover much, much more: * The seven steps for dealing with fear-related stress * Interpreting your horse's behavior and body language * Saddling up, riding in half-seat positions, and using the reins * Basic movements, including walk, trot, canter, turns, and transitions o More advanced trotting, cantering, galloping, hill work, and fence jumping skills Whether you have a serious or casual interest in the sport as a whole or just one of its many disciplines, The Gentle Art of Horseback Riding is a must-read.
Insightful and fascinating, it will enhance the riding experience for you and your horse.
Information
Format:Paperback / softback
Pages:256 pages, 8.5
Publisher:Human Kinetics Publishers
Publication Date:20/03/2013
Category:
ISBN:9781450412742
Other Formats
PDF from £19.79
EPUB from £19.79
Information
Format:Paperback / softback
Pages:256 pages, 8.5
Publisher:Human Kinetics Publishers
Publication Date:20/03/2013
Category:
ISBN:9781450412742