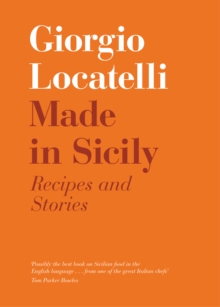 Description
In the follow-up to his acclaimed Made in Italy, Britain's favourite Italian chef embarks on a gastronomic tour of Sicily, a beautiful, sun-drenched isle with a rich and unique culture. When Giorgio Locatelli was about ten years old, and had scarcely holidayed outside his native northern Italy, he was captivated by tales of beautiful seas, idyllic beaches and a different way of life, recounted by the few intrepid local friends who had been to Sicily. Some twenty years later he finally visited the island for the first time and, seeing it through the eyes of a chef, he recalls, `I was completely blown away.
It was so green and gorgeous, the whole island was a garden of wheat and vegetable fields, orange and lemon groves, olive groves and vineyards...' Now he is producing his own olive oil on the island and the Locatelli family spend a part of every summer there. `Sicily has had a big influence on the way I cook,' says Giorgio. `I have always loved simplicity, but there, you have true simplicity.
You have no preconceptions, you have a knife and some salt and pepper and then you go out and see what is in the market.
It is such a natural way of cooking that makes you feel so free.'This follow-up book to Made in Italy explores the ingredients and history and introduces you to some of the cooks, fishermen and growers that make Sicily what it is, with regional recipes ranging from insalata di rinforzo, a famous island salad made with cauliflower, to four kinds of caponata, pasta with anchovies and breadcrumbs, Sicilian couscous, and the celebrated dessert, cassata. `When people talk about Sicilian cooking,' says Giorgio, `they always speak about the influences from the Greeks, the Arabs, the Spanish... but I really believe the biggest influence is the land and the sea.
They determine the produce, which has stayed the same, throughout all the cultural changes.
What grows together, goes together, as my grandmother used to say, and it is the simple combinations of beautiful ingredients that makes Sicilian food special.'
Information
Format: Hardback
Pages: 432 pages, Index
Publisher: HarperCollins Publishers
Publication Date: 29/09/2011
Category: TV / celebrity chef cookbooks
ISBN: 9780007433698
Free Home Delivery
on all orders
Pick up orders
from local bookshops