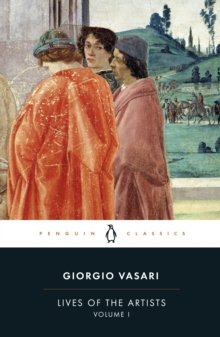 Lives of the Artists : A selection v. 1
Paperback
Description
Beginning with Cimabue and Giotto in the thirteenth century, Vasari traces the development of Italian art across three centuries to the golden epoch of Leonardo and Michelangelo.
Great men, and their immortal works, are brought vividly to life, as Vasari depicts the young Giotto scratching his first drawings on stone; Donatello gazing at Brunelleschi's crucifix; and Michelangelo's painstaking work on the Sistine Chapel, harassed by the impatient Pope Julius II.
The Lives also convey much about Vasari himself and his outstanding abilities as a critic inspired by his passion for art.
Information
Format: Paperback
Pages: 480 pages, bibliography
Publisher: Penguin Books Ltd
Publication Date: 27/08/1987
Category: Painting & paintings
ISBN: 9780140445008
Free Home Delivery
on all orders
Pick up orders
from local bookshops
Reviews
Showing 1 - 1 of 1 reviews.
Review by gbill
27/08/2015
Giorgio Vasari (1511-1574) was an artist, architect, and friend to Michelangelo, so his 'sketches' of the lives of Italian artists from the 13th to the 16th centuries is of special interest - it's art history by a guy who was essentially 'right there'. The editors of this version wisely pared down the number of artists that Vasari actually wrote about, which he broke into three parts. The first covers Cimabue and Giotto, the two who began breaking from Byzantine forms to usher in the Renaissance, the second includes Ghiberti, Masaccio, Brunelleschi, Donatello, and Botticelli among others from the 14th and 15th centuries, and the third includes Leonardo da Vinci, Raphael, and Michelangelo. My mind boggles at that last magnificent threesome, and how they were all together in the same place at the same time, even if they didn't get along together all that well.Vasari gets his dates mixed up at times, and sometimes misattributes artwork, but he has a great eye as an art critic, and certainly gets the spirit of these men right. Here is how he opens the chapter on Leonardo: "In the normal course of events many men and women are born with various remarkable qualities and talents; but occasionally, in a way that transcends nature, a single person is marvelously endowed by heaven with beauty, grace, and talent in such abundance that he leaves other men far behind, all his actions seem inspired…"I confess it's a little tough to read through some sections of this book, as Vasari has a tendency to abbreviate the actual lives of these artists and describes their work one piece after another in detail, so I skimmed at times. Much better in a modern edition would be an illustrated book with color insets interleaved. As it was, I spent a lot of time looking up art online, which was fun in its own right, but hit or miss in terms of finding specific work. I would also recommend skipping his prefaces to the three parts altogether.However, with that said, the personal stories and anecdotes recorded by Vasari are priceless, and 5-star nuggets of gold. Here's a sample:- Giotto drawing a perfect red circle without moving his arm when a courtier of Pope Benedict IX was sent for a sample of his work.- Donatello getting angry at Brunelleschi for his criticism of a crucifix, saying 'Get some wood and do it yourself', and then marveling at what Brunelleschi later produced. Donatello's generosity with workmen and friends while he was alive, and then leaving his small farm to a peasant instead of greedy relatives because he deserved it more.- Brunelleschi's initial proposals for the dome of the Duomo in Florence being met with ridicule, and after heated exchanges, being carried out as onlookers thought he was deranged. Later, after his plan was accepted, his anger at Ghiberti being named co-architect, and doing everything he could to get him removed. - Fra Filippo Lippi being seized at sea by Moorish galleys and taken captive to Barbary in chains, where he would spend a year and a half before impressing his master with his artistic ability so much that he was freed. This same Fra Filippo being so lustful after women that Cosimo de' Medici locked him up, only to have him escape to satisfy his desires. - On seeing birds for sale, Da Vinci paying the price asked, and then setting them free. Da Vinci's inventions, drawings, and dissections that he documented with characters written in reverse with the left hand.- Da Vinci spending long hours contemplating next steps in his painting, having a prior getting impatient and pressing him to hurry up and finish, and Da Vinci telling a duke that he could make the prior the model for Judas if necessary, much to the duke's delight. Similarly, Michelangelo's struggles with Popes who were impatient at times, insulting at others, once causing him to storm off, pack up and leave town.- Da Vinci painting Mona Lisa, the wife of Francesco del Giocondo, and while doing so, "employing singers and musicians or jesters to keep her face full of merriment and so chase away the melancholy that painters usually give to portraits." Think of that next time you contemplate her smile. - The animosity and rivalry between Leonardo and Michelangelo, as well as Raphael sneaking in to see Michelangelo's Sistine Chapel before it was done, and adapting his own art as a result. - Giorgione becoming afflicted with the plague from his lover, and dying at 33. Similarly, Raphael's lifelong love of mistress Margarita Luti, who he painted a couple of times, as well as his "great fondness for women" and practice of "always indulging his sexual appetites"; upon returning from one such session of excess with a violent fever, being bled to no avail, and dying tragically at 37. - Michelangelo being beaten by his father and older brothers as a youth because he was so obsessed with drawing. A rival artist, Torrigiano, later breaking his nose out of jealousy so badly it marked Michelangelo for life. - Michelangelo getting the block of marble that he would sculpt his David out of from basically a discard pile, the block having been previously used unsuccessfully by another artist, Simone da Fiesole. This may be a good book to bring along while touring Florence or Rome. It may not be perfect as history or always captivating in its story-telling, but it is pretty unique to invite someone from 450 years ago into your study, and to have him tell you stories about artists you revere.