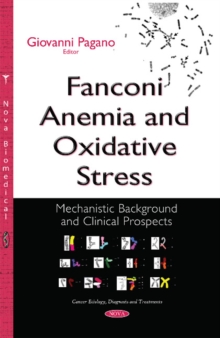 Fanconi Anemia & Oxidative Stress : Mechanistic Background & Clinical Prospects
Hardback
Description
Fanconi Anemia (FA), a rare genetic disease featuring excess cancer risk and chromosomal instability, has received growing interest after the discovery that one of the defective genes in FA is associated with high-impact diseases such as familial breast cancer and ovary cancers.
A well-documented relationship has accumulated in several decades and up to recently, studies have linked FA with a redox imbalance (oxidative stress, OS) in FA cells.
The toxicity mechanisms of crosslinking agents (mitomycin C and diepoxybutane) in FA cells, along with the roles of OS-related aldehydes and glutathione in FA and in other diseases, are critically discussed.
Also discussed is the proinflammatory state in FA phenotype.
Additionally, recent studies have discovered an impairment in the structure and function of mitochondria in FA cell lines, while mitochondrial dysfunction in FA patients has so far been an unexplored field warranting ad hoc investigations.
This book provides the readers with up-to-date information and perspectives on Fanconi anemia and oxidative stress that may prompt further elucidation of this intriguing disease, along with working hypotheses in clinical research and patients' management.
Information
Format: Hardback
Pages: 143 pages
Publisher: Nova Science Publishers Inc
Publication Date: 01/06/2015
Category: Haematology
ISBN: 9781634822978
Free Home Delivery
on all orders
Pick up orders
from local bookshops