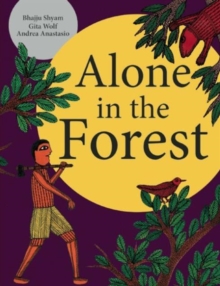 Alone in the Forest
Hardback
Description
"The terrifying experience of being alone in the woods is rendered through the eyes of a young Indian boy. . . A familiar story arc conveyed through traditional art captivates with its freshness and originality." - Starred Review, Kirkus Reviews "Shyam s stylized, boldly outlined forms brim with energy...
A simple, satisfying story, much enriched by its cultural grounding and handsome art." - Horn Book Magazine "This exquisite piece of storytelling speaks both to our crippling fear of the unfamiliar and our ability to transcend it and emerge somehow enriched by that experience." - Brain Pickings One day Musa sets off from his village to collect firewood.
It is the first time he has ventured out alone. Suddenly he hears a loud noise and becomes very afraid.
Was the sound a wild boar? A whole herd of wild boars? Or something even worse? Typography, book design, contemporary tribal artwork, and narrative merge in this powerful yet sensitive visual story for children about fear.
Artwork by the talented Bhajju Shyam, the celebrated Gond folk artist from India, whose previous books include The Night Life of Trees and That's How I See Things.
US Grade Level Equivalent: 1, US Guided Reading Level: I"
Information
Format: Hardback
Pages: Illustrations
Publisher: Tara Books
Publication Date: 01/09/2013
Category: Picture books
ISBN: 9788192317151