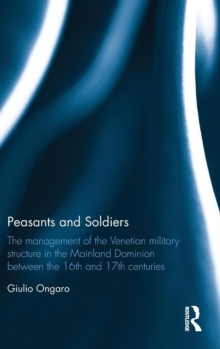 Peasants and Soldiers : The Management of the Venetian Military Structure in the Mainland Dominion Between the 16th and 17th Centuries
Hardback
Description
Early-modern Venice is predominantly remembered as a maritime power, yet historians have become increasingly interested in its political and military aspirations within the Italian mainland.
Adding to the growing literature on this subject, Giulio Ongaro's book addresses the practical management of the Venetian military apparatus in this period.
Focusing on two provinces - Vicenza and Brescia - he interrogates a broad spectrum of primary source documents produced by these rural communities that illuminate Venetian military activities between the mid-sixteenth century and the end of the War of Candia in 1670.
From the production of the saltpeter, the construction of the fortresses, the supplying and the training of the rural militia and the quartering of troops, this book shows how essential military activities were managed and overseen at the local level. In so doing, it demonstrates how local autonomy over the management of Venetian military apparatus - particularly from an economic point of view - did not necessarily conflict with wider, ongoing processes of state building or moves towards the centralization of particular public functions.
Indeed the state appeared to encourage local elites (initially urban, then rural) to take a leading role in overseeing the localised management of military tasks.
The result was a system that both supported the resilience of the local economy (both public and private), and which strengthened and improved the Republic's military assets, allowing it to remain the only Italian state free from the domination of European monarchies.
Information
Format: Hardback
Pages: 236 pages, 19 Line drawings, black and white; 8 Halftones, black and white; 3 Tables, black and whit
Publisher: Taylor & Francis Ltd
Publication Date: 21/11/2016
Category: European history
ISBN: 9781472488855