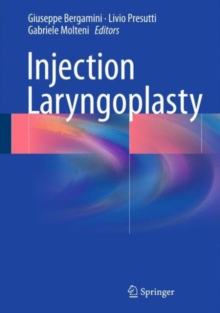 Injection Laryngoplasty
Hardback
Description
This well-illustrated book provides step-by-step guidance on the various techniques - microlaryngoscopic, fiberoptic endoscopic and transcutaneous - that can be employed for the purpose of injection laryngoplasty, a surgical procedure in which a foreign material is injected into the vocal fold.
The anatomy and function of the region are first explained, with identification of the causes and means of evaluation of glottic and neoglottic insufficiency.
Advice is then provided on the choice of material for injection laryngoplasty, including absorbable and long-lasting options, on the basis of careful analysis that takes into account both the recent literature and the authors' own experiences.
Detailed descriptions of the surgical indications and different procedures follow and for ease of reference, clear flow charts on diagnosis and indications are also included.
The book concludes with chapters on the use of injection laryngoplasty specifically in the pediatric population and on postoperative care and speech therapy following the procedure.
Injection Laryngoplasty will provide valuable assistance to all surgeons wishing to perform this kind of surgery.
Information
Format: Hardback
Pages: 94 pages, X, 94 p.
Publisher: Springer International Publishing AG
Publication Date: 21/10/2015
Category: Anaesthetics
ISBN: 9783319201429