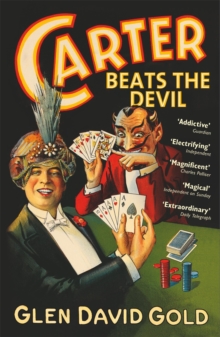 Carter Beats the Devil
Paperback
Description
Charles Carter, dubbed Carter the Great by Houdini himself, was born into privilege but became a magician out of need: only when dazzling an audience can he defeat his fear of loneliness.
But in 1920s America the stakes are growing higher, as technology and the cinema challenge the allure of magic and Carter's stunts become increasingly audacious.
Until the night President Harding takes part in Carter's act only to die two hours later, and Carter finds himself pursued not only by the Secret Service but by a host of others desperate for the terrible secret they believe Harding confided in him.Seamlessly blending reality and fiction, Gold lays before us a glittering and romantic panorama of our modern world at a point of irrevocable change.
Information
Format: Paperback
Pages: 576 pages
Publisher: Hodder & Stoughton General Division
Publication Date: 16/05/2002
ISBN: 9780340794999
Free Home Delivery
on all orders
Pick up orders
from local bookshops
Reviews
Showing 1 - 5 of 9 reviews.
Previous | Next
Review by dylanwolf
16/06/2015
Considering the subject matter I would have expected some authorial legerdemain but really this was a stolid, tedious novel and it took a lot of effort to plod through to the end. The overall effect was of an author trying far too hard and in desperate need of an editor. The book never seemed to make it's mind up about whether to go for historical realism or magical illusion. Try Hilary Mantel's "Beyond Black" to see how to meld the real world and the magical (or, in this case, spirit) world into a successful novel.
Review by SimonW11
16/06/2015
Yes it was obviously a first novel. Gold seemed determined to cram every bit of research, every idea he had into this. Its length came not from padding but from an inability to leave anything out. a more experanced writer might have held some ideas thoughts and research back for another novel but I suspect Gold did not know if there would be another novel so in it went. I do hope he has enough left over for another Neal Stephenson is the only author I can think of who can keep that pace up for book after book. Since it is his first novel, his pride and joy he has obviously polished it with loving care. Rewriting and reworking it. Mr Gold obviously wants to be more than a journeyman author and this his first novel is more than an aprentice piece he is trying for a master work straight away.Does he make it? Well the plot is preposterous. but I love complex plot.and he, (like the secret service agent who did not see a mermaid)understands how and when to reveal and conceal, that most essential component of a storytellers art. His characters? Well a lot were mere sketched exagerations or nonentities. The problem of a large cast. but the pacing was first class. There was never a moment reading, whether about Carters childhood or his adult years when I was not eager to find out what would happen next, yet afraid of missing what was happening currently. I was emotionally involved throught. Amused sad or scared for page after page.About two thirds of the way through I thought yes but this book was reccomended as an Adventure story. . I dont think this really qualifies engaging though it is. Then in the next chapter Carter is nailed in a packing case and I had to reconsider big time. There seem to be two disparate novels in this book Mr Gold is to be complimented. on marrying them so well. He is no mere journeyman. I look forward to his next novel he has a lot to live up to.
Review by Greatrakes
16/06/2015
I don't recommend reading this book over two months a little bit at a time, you may well end up as confused by the plot as I was. Why was everyone trying to kill him? What was Borax's relationship to Phoebe? Who was the third 'nut brown' person on the desert island, at the end?Oh well, I thought it was a remarkable book, very much a first novel with, I imagine, a sympathetic and indulgent editor. The structure is unorthodox and the plot absurd, yet engaging and it is remarkable that he brought it altogether (well, I assume he did, I kept getting lost through reading it in five minute snatches).I've never been much interested in magic shows but Gold writes description so well that I was fascinated by it all. He also does set-piece suspense well, and he has plenty such moments, there is a scene where Carter is cast adrift cuffed inside a sinking crate that I thought particularly well done.
Review by devenish
16/06/2015
Charles Carter was a real-life Magician who lived in America in the 1920's at the same time as Harry Houdini.This thick volume of 560 pages describes his life in fictional terms which adds flesh to the bare bones of his life.Following an essential preamble involving the President,the tale proper begins with Charles ,aged nine together with his younger brother James at the family home. Several events occur which shape their lives forever and mould the future career of Charles Carter. This career is to be that of the stage magician 'Carter the Great'.Many of his illusions are described,during the course of this book,although quite rightly not many of the solutions. In the course of the story he makes both friends and enemies (one of the latter sets out to ruin,and perhaps to kill him).He also finds the two great loves of his life.I found this book exciting,touching and really beautifully written.It held my interest right to the end and made me impatient for Glen David Gold's next offering.
Review by Tinwara
16/06/2015
Pleasant read. Entertaining, and a nice escape from a bunch of more serious and depressing books that I have been reading lately. I needed something light, and this was just right.Glen David Gold has obviously done a lot of research into the early 20th century, the vaudeville shows, and magicians. The book is nostalgic in a way, it describes entertainment as it was before the age of television.I very much liked the first part of the book, it's a story that has John Irving like quality: I just couldn't stop reading. From the second part onward I thought the story got a bit complicated, with so may characters and story lines. I started to loose interest. However, it was an enjoyable read that made me long for the old times and magic shows.
Also by Glen David Gold