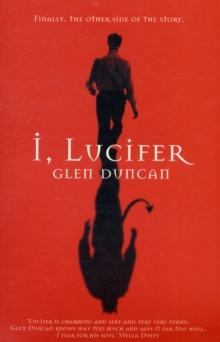 Description
The Prince of Darkness has been given one last chance: he will be readmitted to the company of his fellow angels if he agrees to live out a human life.
Highly sceptical (naturally), the Old Deal-maker negotiates a trial period - a summer holiday in a human body, with all the delights of the flesh.
The body, though, turns out to be that of Declan Gunn, a depressed writer living in Clerkenwell, interrupted mid-suicide.
Making the best of a bad situation, Luce himself takes to writing - to explain, to strip back the Biblical spin, to help us see the whole thing from his point of view. And to knock that Jesus off his perch. Beset by distractions, miscalculations and all the natural shocks that flesh is heir to, Lucifer slowly begins to learn what it's like to be us.
Glen Duncan's brilliantly written new novel is an investigation of the world of the senses - the seductiveness of evil, and the affection which keeps us human.
Information
Format: Paperback
Pages: 272 pages
Publisher: Simon & Schuster
Publication Date: 06/01/2003
ISBN: 9780743220132
Free Home Delivery
on all orders
Pick up orders
from local bookshops
Reviews
Showing 1 - 5 of 5 reviews.
Review by johnthefireman
16/06/2015
A very amusing and insightful novel in which the devil takes human form for a while and tells his story in his own words.
Review by herlibrary
16/06/2015
Got to page 53...have more interesting books on my pile to read....maybe it gets less boring on page 54....I'll never find out... releasing
Review by Greatrakes
16/06/2015
I found <i>I, Lucifer </i>so loose in structure and so idiosyncratic in style that I'm not sure what to hang my review on other than a few random headings:<b>Allusions</b>This was the biggest problem for me - I wish I'd read more 'religious' material. Although I'm Church of England that's only because of the architecture. I had the feeling that the ideal reader would be steeped both in the scriptures and Paradise Lost (and a Catholic, probably). I'm sure that many allusions whooshed over me, without me seeing the jibe or getting the joke.<b>Historical Interludes</b>I could have done without these. I didn't think the Himmler or the Inquisition chapters added anything to the purpose of the story. The points made, about the nature of evil, just seemed mundane and obvious. I hated the Inquisition torture chapter and wished I'd skipped the nasty bits.<b>The Angels</b>I liked the Angels come to earth. I especially liked Raphael as the potbellied Greek, Theo Mandros, with his white suit and his love for Lucifer. Quite a short chapter yet a complete mood change with the love, regret and reproach of Raphael nicely drawn.<b>Lust for life</b>Great, loved it. The sheer exuberant vulgarity of it all, particularly the sex scenes. I just tried to find some quotes from these scenes that would acceptable and failed! I think I was also drawn to the possibilities of near omniscience; as explored in the seduction of Harriet Marsh, (Pages 79 - 83) - this had echoes of Groundhog Day, but without the long wait.Some of the exploration of the senses is repetitive (Ice cream, and the smell of dogs for example) in fact I thought the book would have benefited from tighter editing and could have been fifty pages shorter<b>What WAS it About?</b>Well, I'll play devils advocate. Those of you who know something of theology and religion can cut me down to size later. I'm on Lucifer's side. Lucifer sets out his claim on page 210: "The point, my dears, is not good or evil - but freedom. For an angel there is only one true freedom, and that, I am honestly sad to say, is freedom from God."Lucifer can make no real choices. Where God is omniscient, and all is pre-ordained, what are good and evil? Both are just manifestations of God. But, at the end of the book, God gives him one more possibility - oblivion, which, at last, means freedom. Lucifer is a freedom fighter - evil is just collateral damage.Was the author using Lucifer to explore predestination versus free will or just throwing us a bit of theology to make his self indulgent sex romp more literary? Dunno.
Review by drachenbraut23
16/06/2015
"The question 'What was there before creation?' is meaningless. Time is a property of creation, therefore before creation there was no before creation." "How to describe hell? Disembowelled landscape busy with suffering, incessant heat, permanent scarlet twilight, a swirling snowfall of ash, the stink of pain and the din of...if only, hell is two things: the absence of God and the presence of time. Infinite variations on that theme. Doesn't sound so bad, does it? Well, trust me." I really, really wanted to like this book and when I initially started it, I thought "what a great book", but then it changed and I started to get annoyed and bored. I managed 150 pages - WOW - The blurb sounded promising and I thought the concept of the book was great, but IMO it just didn't deliver. I liked the parts where he was talking about his fall from heaven and his ruthless efforts in Paradise to corrupt Adam and Eve. I also enjoyed the parts of him enjoying the smells, the colours and how he percived the world around him, once he was in Declan's body. However, I got already annoyed on the first few pages when Lucifer tempts a padre to sexually abuse a little boy. HAHAHA HOW FUNNY. Sorry, I didn't think this was funny. Then he carries on with lots of philosophical religious ramblings, using lots of "interesting" words and once he finished a ramble, you didn't have a clue anymore what the ramble was about. After some time, I just felt that Lucifer was a boring, arrogant gump which had nothing to offer aside from drugs, sex, violence and other weird things. Even half way through, I didn't have a clue what the author wanted to convey with this book aside from all the things we know already and eventually, I didn't think his ramblings were funny at all - and that was what the book was ment to be - FUNNY!
Review by clfisha
16/06/2015
The devil has been offered a shot at redemption. Live a (reasonably) sin free life on earth as a human and he will get a shot at heaven. Of course the Devil doesn't believe a word of it but he's sure going to have fun in his hosts body, washed up author Declan Gunn. Although he doesn't realise it's going to give him a penchant for storytelling. This book then is his story.I have mixed feelings about this book. There are some gems here, Lucifer is the King of unreliable narrators and I loved his flowing duplicity sometimes switching "truths" mid-sentence. I enjoyed his asides into history, his rants, his arrogance and smugness (oh you can see why he fell). He could be accused of rambling (lovers of tight action plots beware) but I thought it was great and elevated the novel from the ordinary. I didn't like the character he "jumped" into, the failed author, an arrogant loser whose life and legacy added nothing particularly to the story. I also didn't like the fact that Lucifer seems to be misogynistic it was annoying and jarring, I mean surely he hates everyone. In fact I jarred with his personality but it's matter of taste, I have my own opinion on what Lucifer should be (I blame Neil Gaiman)Recommended. I will be reading more from Duncan (I really enjoyed [The last Werewolf])