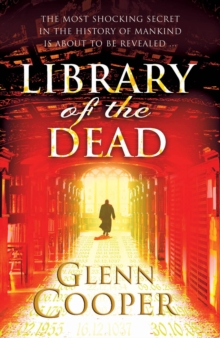 Library of the Dead
Paperback
Description
The most shocking secret in the history of mankind is about to be revealed ... A murderer is on the loose on the streets of New York City: nicknamed the Doomsday Killer, he's claimed six victims in just two weeks, and the city is terrified.
Even worse, the police are mystified: the victims have nothing in common, defying all profiling, and all that connects them is that each received a sick postcard in the mail before they died - a postcard that announced their date of death.
In desperation, the FBI assigns the case to maverick agent Will Piper, once the most accomplished serial killing expert in the bureau's history, now on a dissolute spiral to retirement.
Battling his own demons, Will is soon drawn back into a world he both loves and hates, determined to catch the killer whatever it takes.
But his search takes him in a direction he could never have predicted, uncovering a shocking secret that has been closely guarded for centuries.
A secret that once lay buried in an underground library beneath an 8th Century monastery, but which has now been unearthed - with deadly consequences.
A select few defend the secret of the library with their lives - and as Will closes in on the truth, they are determined to stop him, at any cost ...
Information
Format: Paperback
Pages: 416 pages
Publisher: Cornerstone
Publication Date: 01/05/2009
Category: Crime & mystery
ISBN: 9780099534457
Free Home Delivery
on all orders
Pick up orders
from local bookshops
Reviews
Showing 1 - 5 of 6 reviews.
Previous | Next
Review by wyvernfriend
16/06/2015
Will Piper, once a successful FBI agent, is biding his time until retirement, hoping that his lasst few years will be easy and uncomplicated. Then he's assigned the case of the Doomsday Killer. Mysterious people are arriving with people with a date and time and a coffin. These murders appear to have no connection with each other and as Will digs things get stranger.It's not a bad story, but there's some serious handwaving going on, why the Library was moved to the US in 1947, post war there was no real reason for this, the UK would have held on to that more tenaciously. The end did want me to keep looking for the series though, the whole story could be interesting, though the amero-centrism may make me very cranky by the time I get further on.
Review by ilurvebooks
16/06/2015
Good story line jumping from present to the past history enjoyed this book from start to finish
Review by Toby_Sugden
16/06/2015
Took this out of the library over the weekend for something to read on the tube on my way to work however I had finished it by Monday! While I found the writing somewhat amateurish and the characters far too stereotypical the story was compelling enough that I still wanted to continue reading. Some of the plot twists are a bit too obviously signposted but the pacing was very well handled and overall it far surpassed my expectations.
Review by Ameise1
16/06/2015
I read the sequel earlier and because I liked it very much I bought this one. I'm glad that I did so many things are much more clear now. It was a very fast-paced reading. The secrets are located in the past (1350 years ago) on the Isle of Wight. There was born a boy who couldn't speak but was addicted to write down names and dates of birth and death. After WWII this hidden library was found but the English government asked the US government to take this library over. Therefore the Areal 51 in the desert of Nevada was built. Unfortunately, there was a leak and 9 people died in New York. Nobody was able to find out the relationship between these cases of death. Will Paper and his partner Nancy Lipinski tried to solve the puzzle
Review by mile_mitrov
16/06/2015
at first i was very reluctant about this one. i was a bit put off by the description. but when i finally gave it a chance i was pleasantly surprised .<br/>an interesting concept and a good story . i quite enjoyed it and would definitely recommend it.<br/><br/>note to author: please fire the guy who writes the description on the back of your books